Until the delays start to hit, that is.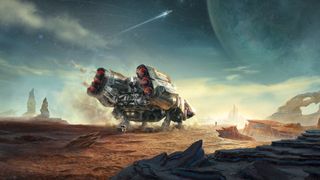 Now that 2023 is here there's a lot to look forward to—not least of which a few games we thought we'd be playing last year. The first quarter of the year is bringing us all sorts of long-awaited launches like Atomic Heart, Kerbal Space Program 2, and The Last of Us Part 1 on PC at last.
Best of the best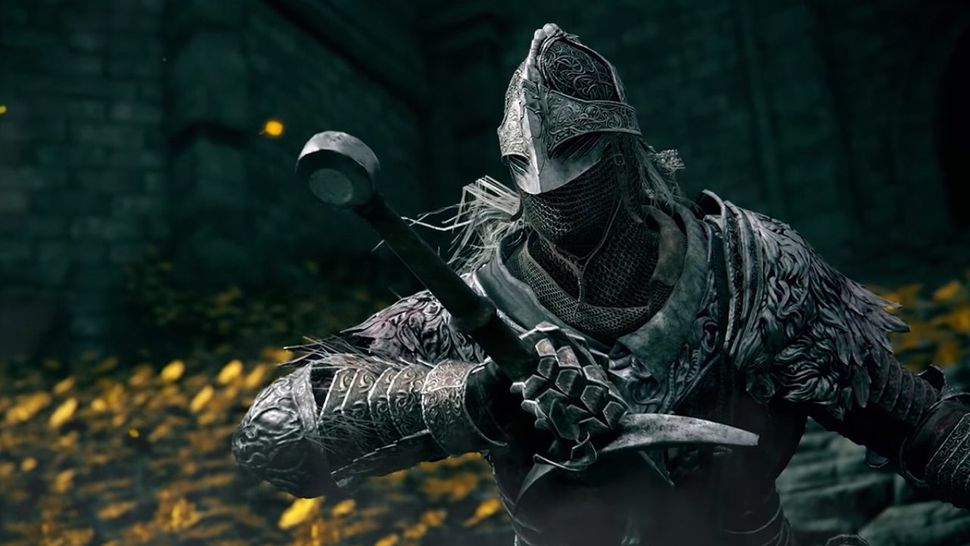 (Image credit: Bandai Namco)
2023 games: Upcoming releases
Best PC games: All-time favorites
Free PC games: Freebie fest
Best FPSes: Finest gunplay
Best MMOs: Massive worlds
Best RPGs: Grand adventures
For the third year running, we've seen an increase in big games willing to push back their release dates to get a bit more development time. Not even just once, either. Some are still getting multiple delays before they finally hit our game libraries. Knowing that, let's call this a tentative 2023 games list. Inevitably, some of the names here will get kicked into the year 2024—a frightful number for me to be forced to type already. When they do, we'll be keeping track right here, just like we did last year.
From what we know so far, 2023 is going to be a huge year for RPGs. A lot of major series with long-in-the-works sequels are targeting this year for release dates. Starfield's delay put it in the early part of 2023, Baldur's Gate 3's early access is planned to end with a full release in August, and both Final Fantasy 16 and Diablo 4 are scheduled to turn up too.
Hit the ground running and fill up your schedule with all the new games of 2023:
New games launching this month
Here are some of the biggest launches you have to look forwards to this month: that long-awaited Dead Space remake, Forspoken, and another Persona port for PC players. Check out all the other games launching this month further down the page in the new games of January section.
Persona 3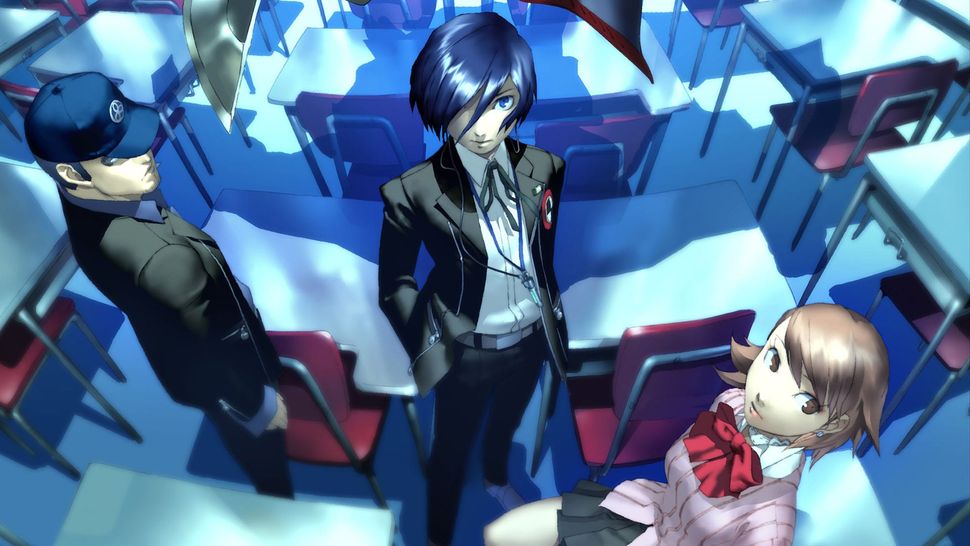 (Image credit: ATLUS)
Release date: January 19, 2023
Yet another Persona series game is making the jump to PC this year. After Persona 4 Golden and then Persona 5 Royale, Persona 3 Portable is the next to get an official port. This is of course another teen sleuths modern fantasy shindig, and one of the weirder ones of the series to boot. In P3, characters fire a fantastical "Evoker," a thing which totally, definitely is not a gun, at their own heads to summon their Personas. Otherwise, Persona 3 is more of the time-management, mystery, and highschool hijinks from the rest of the RPG series.
Forspoken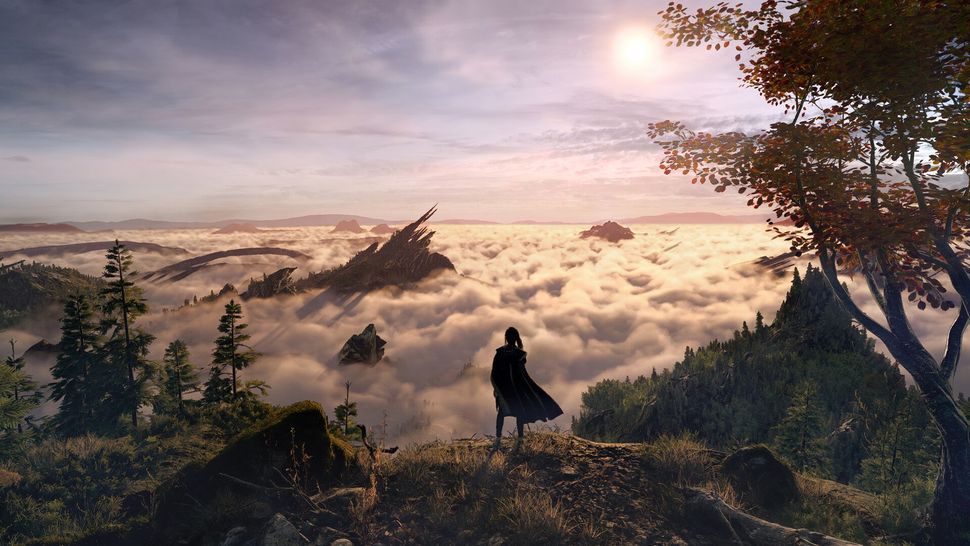 (Image credit: Luminous Productions)
Release date: January 24, 2023
Modern New York teenager Frey Holland winds up in the magical world of Athia and, of all things, parkour ensues. With a magical bracelet and some explosive magical abilities, Frey skates, jumps, and wall runs her way around Athia's open world. Forspoken made a real impression based on its lovely looks when it was first revealed and a slightly less great impression with excessive banter in a later trailer. We'll see how the two mix when it finally hits the streets.
Dead Space Remake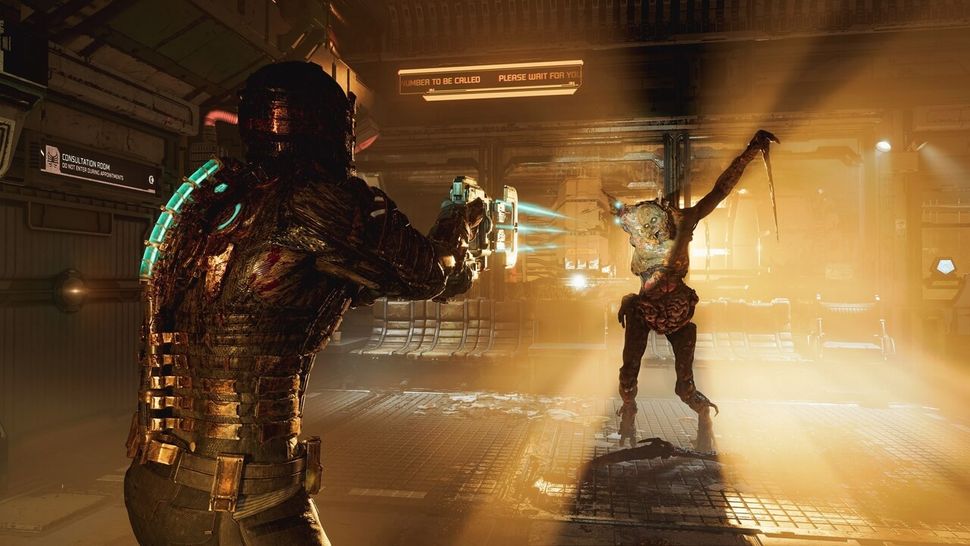 (Image credit: Electronic Arts)
Release date: January 27, 2023
Motive is remaking the much-loved space horror shooter from 2008 and, based on the limited playtime we got a few months ahead of release in our Dead Space preview, it's a pretty faithful recreation. "The new Dead Space will be a lot like the old one, except with modern graphics, fewer mid-2000s bugs, and a far more detailed Ishimura," our executive editor Tyler Wilde said back in October. Severing alien limbs with a plasma cutter remains gruesomely enjoyable and the physics puzzles and no-HUD approach of the original both remain.
Inkulinati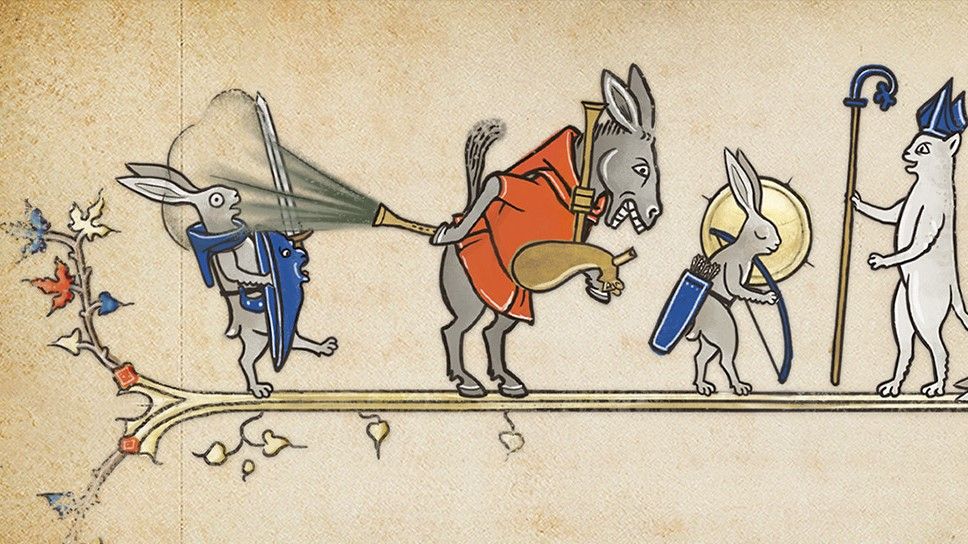 (Image credit: Yaza Games, Daedalic Entertainment)
Release date: January 31, 2023 (early access)
A turn-based take on medieval marginalia, Inkulinati is a strategy game where illustrated animal flatulence is as deadly a tool as any greatsword or morningstar. With an aesthetic inspired by the bizarre illustrations of medieval manuscripts, you'll assemble a roster of cat bishops and man-eating snails, drawing them in Living Ink to face the forces of other Inkulinati in battle.
2023 Games: January
January 12, 2023 — One Piece Odyssey – A JRPG for everyone's favorite pirate anime
January 19, 2023 — Persona 3 Portable – The PC port of the JRPG arrives
January 19, 2023 — Tortuga: A Pirate's Tale – Turn-based piratical strategy
January 24, 2023 — Forspoken – Magical parkour adventure
January 24, 2023 — Mahokenshi – Samurai fantasy deckbuilder
January 27, 2023 — Dead Space remake – Motive's space horror remake
January 31, 2023 — Inkulinati (early access) – Medieval animal strategy
January 31, 2023 — Warhammer AoS: Soul Arena – Age of Sigmar auto-battler
January 31, 2023 — Superfuse – Superhero Diablo-like with moddable abilities
2023 Games: February
February 2, 2023 — Deliver Us Mars – Story driven space mystery
February 3, 2023 — Dead Island 2 – Zombie survival RPG infects California
February 10, 2023 — Hogwarts Legacy – Wizarding world RPG
February 17, 2023 — Wild Hearts – A monster hunting game from EA
February 20, 2023 — Atomic Heart – Sci-fi Soviet shooter
February 21, 2023 — Like a Dragon: Ishin! – Yakuza samurai-era AU
February 23, 2023 — Company of Heroes 3 – WW2 Mediterranean RTS
February 23, 2023 — Blood Bowl 3 – Fantasy football with goblins and gore
February 23, 2023 — Sons of the Forest – Woodsy horror survival
February 24, 2023 — Kerbal Space Program 2 (early access) – Physics disaster in space
February 28, 2023 — Destiny 2: Lightfall – Destiny does cyberpunk
February 28, 2023 — Scars Above – Body horror space adventure
February ??, 2023 — Redemption Reapers – Dark fantasy tactics
2023 Games: March
March 1, 2023 —The Day Before – Open world zombie survival MMO
March 3, 2023 — Last of Us Part 1 – Remastered Naughty Dog hit
March 17, 2023 — Star Wars Jedi: Survivor – Cal Lightsaber's dark middle chapter
March 24, 2023 — Resident Evil 4 remake – A reimagined story for Leon
March 28, 2023 — Crime Boss: Rockay City – First-person GTA-like
2023 Games: April
April 4, 2023 — Meet Your Maker – Post-apocalyptic PvP base-builder
April 25, 2023 — Afterimage – Colorful dreamlike metroidvania
April 25, 2023 — Roots of Pacha – Stone-age Stardew Valley
April ??, 2023 — Mask of the Rose – Failbetter's 'sort-of' dating sim
April ??, 2023 — Star Trek: Resurgence – Star Trek treks into adventure game land
2023 Games: May
May 26, 2023 — Suicide Squad: Kill the Justice League – Co-op cape killing
2023 Games: June
June 1, 2023 — Street Fighter 6 – Ryu Ryu Ryu Ryu Ryu RyuJune 6, 2023 — Diablo 4 – The long-awaited action RPG sequel
2023 Games: August
August ??, 2023 — Baldur's Gate 3 – Larian's take on the classic RPG series
2023 Games: December
December ??, 2023 – Stalker 2: Heart of Chornobyl – Radiation-soaked FPS sequel
2023 Games: Dates to be announced
2023 games with dates to be announced
A Highland Song – Scottish side-scrolling survival rhythmAfter Us – Surreal post-human puzzlerAK-xolotl: Wars – Multiplayer bullet hellAlan Wake 2 – The survival horror sequelAliens: Dark Descent – Alien, but an RTSAlliance of the Sacred Suns – 4X Space StrategyArcadian Atlas – Isometric turn-based tacticsArk 2 – More dinosaurs, plus Vin DieselArmored Core 6: Fires of Rubicon – FromSoft's return to robot rootsAssassin's Creed: Mirage – Assassin's Creed goes back to its stealth rootsAtlas Fallen – Monster Hunter by way of righteous deicideAvatar: Frontiers of Pandora (opens in new tab) – Open-world AvatarBanchou Tactics – High school delinquent tactics RPGBanishers: Ghosts of New Eden – 17th century ghost-hunting RPGBlue Protocol – Online anime action RPGBomb Rush Cyberfunk – Jet Set SuccessorBramble: the Mountain King – Nordic horror platformerBroken Roads – turn-based RPG in post-apoc AustraliaCapes – turn-based superhero tacticsChrono Odyssey – Fantasy MMOCreature Keeper – Real-time combat creature collectorCrimson Desert – Singleplayer RPG from Black Desert devsCrimson Tactics (early access) – Final Fantasy Tactics with pony optionsCyber Knights: Flashpoint – Cyberpunk heist tactics RPGCyberpunk 2077: Phantom Liberty – Expansion to the CDPR RPGDarkest Dungeon 2 – Grueling eldritch roguelike sequelDemonschool – High school demon-fighting tactics RPGDepersonalization – Eldritch anime RPGDesktop Dungeons: Rewind – Browser roguelike remasterDredge – Sinister fishing sim with sea horrorsDungeons 4 – Dungeon Keeper-inspired simulation RTSEarth from Another Sun – scifi MMO/FPS claiming useful blockchain presenceEcho Generation – 80s voxel adventure with turn-based combatEdge of Sanity – 2D lovecraftian survival horrorEl Paso, Elsewhere – Third-person shooterEverywhere – A vague metaverse dream from GTA producersThe Expanse: A Telltale Series – Telltale storytelling for best Belter bosmangFinal Fantasy 7 Rebirth – The next chapter of the FF7 remakeFinal Fantasy 16 – The RPG series returns to medieval magicFlashback 2 – Remake of a classic scifi side-scrollerFlintlock: The Siege of Dawn – Soulslike for musket fansForever Skies – Airship-based FPS survival on doomed earthFor The King 2 – Turn-based tabletop-ish RPG sequelFrostpunk 2 – Grim, snowy city managementThe Gap – Psychological walking simThe Great War: Western Front – WWI RTSHarold Halibut – Claymation space storyHomeworld 3 – Sci-fi RTS classic returnsHouse Flipper 2 – More gentrification simulationHyenas – Sega's multiplayer FPSHyper Light Breaker – Action adventure sequel to Hyper Light DrifterImmortals of Aveum – EA-published magic FPSThe Invincible – Retro-future space thrillerThe Iron Oath – Turn-based tactics with dark fantasy mercsKiller Klowns from Outer Space – Asymmetrical horror throwbackThe Last Case of Benedict Fox – Eldritch investigation metroidvaniaLayers of Fears – More horror from Bloober TeamLies of P – Bloodborne, but you play PinocchioLightyear Frontier – Chill farming sim with mechsLollipop Chainsaw – A remake of the zombie hack-n-slashThe Lords of the Fallen – Similarly-named soulslike sequelThe Lord of the Rings: Gollum – a very Smeagol skulking gameLord of the Rings: Return to Moria – A middle earth crafting gameMars First Logistics – Physics-based Mars rover deliveriesMen of War 2 – WW2 RTS with co-opMetal Slug Tactics – classic run-n-gun goes tactics RPGMiasma Chronicles – post-apocalyptic tactics RPGMinecraft Legends – An RTS spinoffMoonlight in Garland – Stardew in the big cityMoving Out 2 – Packing party game sequelN1RV-ANN-A – Cyberpunk bartending visual novelNAIAD – Vibrant underwater exploration as a sea nymphNemire – Undead army tactics RPGNighthawks – A vampire RPG from adventure game veteransNightingale – Crafting survival RPG in the Fae RealmsOff the Grid – Blomkamp Battle RoyalePalworld – Open-world survival with gun-toting PokemonPark Beyond – Tycoon simulator of the rollercoaster varietyParty Animals – Cuddly physics brawlerPayday 3 – Long-awaited co-op heist sequelPixel Tactics Online – Turn-based tacticsPlanet of Lana – Sci-fi puzzle adventurePokemon Trading Card Game Live – Pokemon cards, but onlinePragmata – Outerspace action adventurePrince of Persia: The Sands of Time Remake (opens in new tab) – Action adventureRailroads & Catacombs – Darkest Dungeon, but trainsRavenlok – An action adventure fairytaleRedfall – Co-op open-world vampire shooterReplaced – Sci-fi action platformerR-Type Tactics I – II Cosmos – Tactics spinoff of side-scroll shooterSea of Stars – Classic-style turn-based RPGShadows of Doubt – Neon noir detective simShardpunk: Verminfall – A turn-based tactics take on VermintideShe Dreams Elsewhere – Retro-surreal adventure RPGSkate Story – Chill skateboarding through the atmospheric underworldSkull & Bones (opens in new tab) – Ubisoft Pirating RPGSnufkin: Melody of Moominvalley – A story adventure gameSolium Infernum – Grand strategy in HellSongs of Conquest – Turn-based fantasy strategy RPGStarfield – Bethesda's new original space RPGStellar Blade – Flashy scifi hack-and-slashStray Blade – Soulslike with El Dorado flavorTempest Rising – Archetypal base-building RTSTerra Nil – Reverse city-builderTeslagrad 2 – Electrifying puzzle platformer sequelTest Drive Unlimited Solar Crown – Open world driving in Hong KongTron: Identity – Tron steps into visual novelsUnder the Waves – Subaquatic psychological storyUntamed Tactics – Tactics RPG with anthropoid animalsVoidtrain – Open-world survival FPSWarhammer 40,000: Space Marine 2 – Sequel to the 2011 action gameWartales – Turn-based Mount & BladeWitchbrook – Wizarding school life simWitchfire – A roguelite shooter from Bulletstorm's developerWizard With A Gun – Co-op sandbox survivalWrath: Aeon of Ruin – Quake-like retro shooterWrestleQuest – 80's pro wrestling meets retro-styled RPGZoria: Age of Shattering – Squad-based fantasy dungeon crawler