Almost as cheap as they were for RRP last year.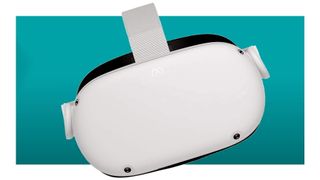 Meta's popular VR headset, the Quest 2 has easily been the best value choice for anyone looking to get into VR since it launched in 2020. It offers a headset that can work tethered to your powerful gaming PC, or standalone without wires for a fraction of the price of many competitors. This remains mostly true today, even in spite of Meta's recent $100 Quest 2 price hike (opens in new tab). Right now though, Meta is selling the 256GB model of the Quest 2 for $US70 off (opens in new tab), which is the cheapest we've seen it since the new pricing model.
While 2023 is threatening a surge in VR and AR headsets (opens in new tab) which may usurp the Quest 2's stronghold on VR value, $US430/$AU720 is still a fair discount over the current $US500/$AU790 RRP. It doesn't quite get us back to the golden prices of 2020, but it's a good discount in the current market. It might also be a great opportunity for original Quest owners to upgrade, given Meta is due to wind down support (opens in new tab) for those older models this year.
The current deal includes all the regular kit you get with a standard Quest 2 headset. This includes a charging cable, power adapter, both controllers with batteries, glasses spacer, and of course the headset itself. Copies of VR games GOLF+ and Space Pirate Trainer DX redeemable on Meta's Oculus Quest Store are also included in the bundle. Both of these games are simple but fun experiences, great for a first timer, and work well on a standalone Quest 2.
The strap that comes with the Quest 2 is functional, consisting of velcro straps around the skull. Most who use it even semi-regularly will wind up wanting something a bit more comfortable and robust. For an extra fee you can select one of Meta's Elite strap options at the checkout. While miles better than the original strap, there are even better options you can go for that aren't under the Meta branding.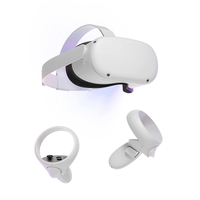 (opens in new tab)
Meta Quest 2 | VR Headset | 256 GB |  $499.99 $429.99 at Meta (save $70) (opens in new tab)
(opens in new tab)The Meta Quest 2 is the tried and true VR headset to suit most users. It runs stand alone, or with the power of your sick gaming computer, without any wires required. The price recently went up by $US100, this is the best value offer we've seen since.
View Deal (opens in new tab)
While my boss, Jacob Ridley, loved the improved comfort the official Elite strap (opens in new tab) offers, it's not the best alternate strap I've personally tried. He's asleep right now thanks to timezones, so I'll quietly tell you about what is in my opinion a much better alternative.
Currently I'm rocking the BOBOVR M2 battery pack head strap from Amazon (opens in new tab), which was considerably cheaper than Meta's for me here in Australia. It's a much bulkier piece of kit, but feels far superior to wear. The design takes the weight and pressure of wearing the headset off the sinuses and redistributes it through some pretty impressive padding. I've been able to wear this headset through sinus headaches with little discomfort, and it still comes with an extra swappable battery to keep you in-game longer.
Meta's current roadmap (opens in new tab) states a Quest 3 should see the light of day later this year, but at a higher price than even the undiscounted Quest 2. Despite the future looking bright for new headsets, this could be the best Quest 2 deal we see for a while. Between this and HTC Quest competitor the Vive XR Elite (opens in new tab) also slated to come in at over $1,000, which is closer to the range of Meta's not-really-for gaming headset the Quest Pro, there's no reason to think the Quest 2 will be cheaper than this sale price any time soon.