Sleek styles in exchange for Silver.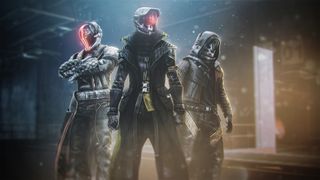 The Destiny 2 Season of Defiance is here, and with it a whole storeload of ornaments for both the new exotics arriving in Lightfall as well as beloved older weapons and armour that might make a bit of comeback now Strand has arrived. If you include the stasis bow from the season pass and the exotic from the upcoming Realm of Nightmares raid, there are a lot of new weapons to claim.
That's not even mentioning the sparrows, ships, and ghosts on offer if you want a little Lightfall style and are willing to part with some real cash in order to purchase the Silver to acquire them. Either way, here's every new Season of the Defiance Eververse item, as well as all of the exotics that arrived with Lightfall, both in the expansion, and as part of the season.
Eververse armour sets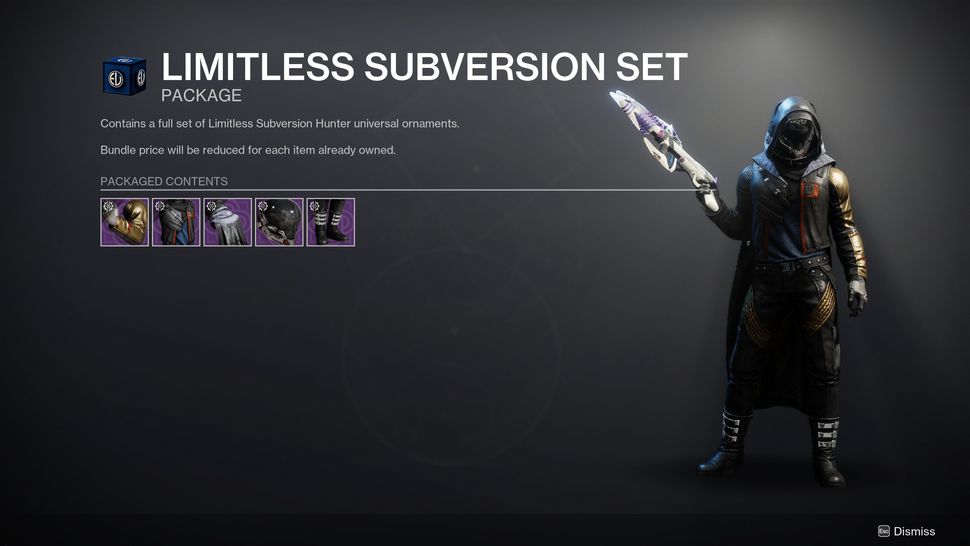 (Image credit: Bungie)
Limitless Subversion set (Hunter)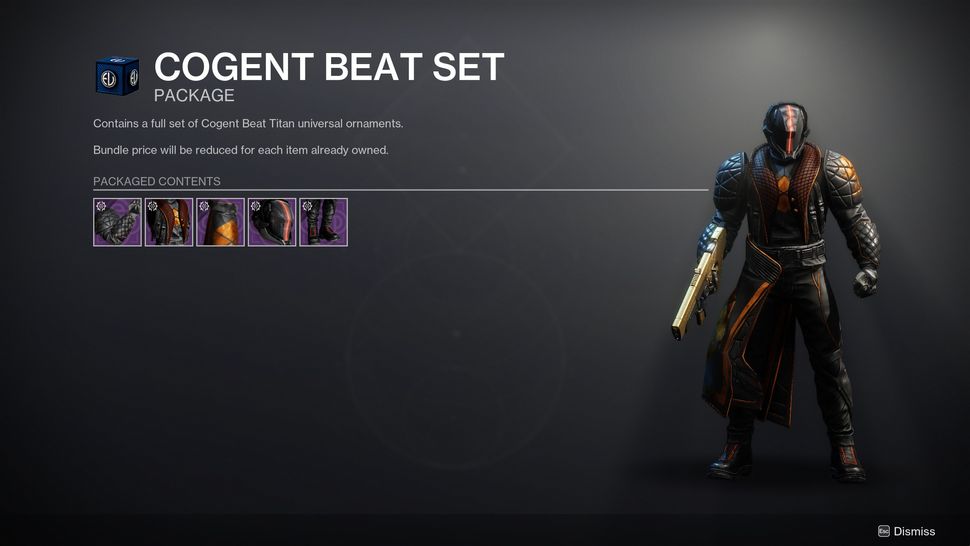 (Image credit: Bungie)
Cogent Beat set (Titan)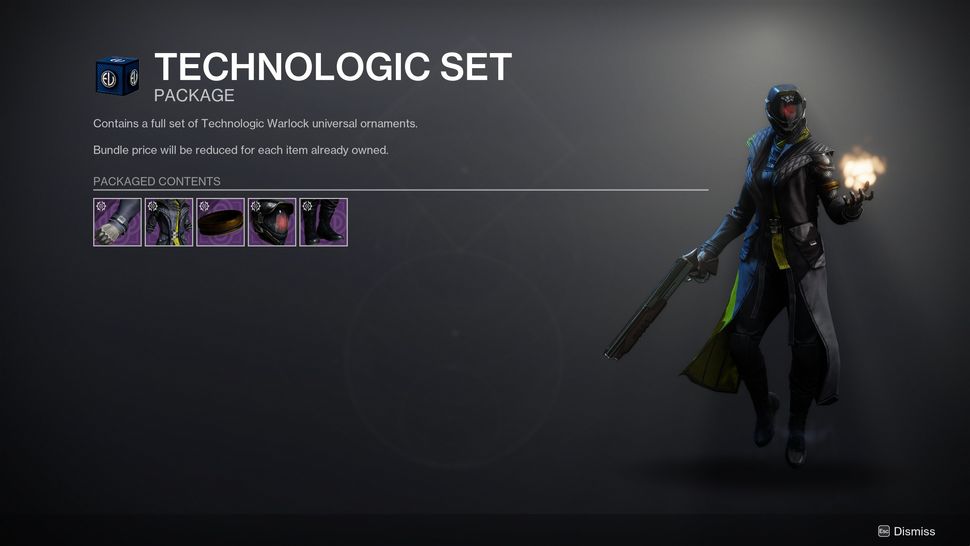 (Image credit: Bungie)
Technologic set (Warlock)
Exotic armour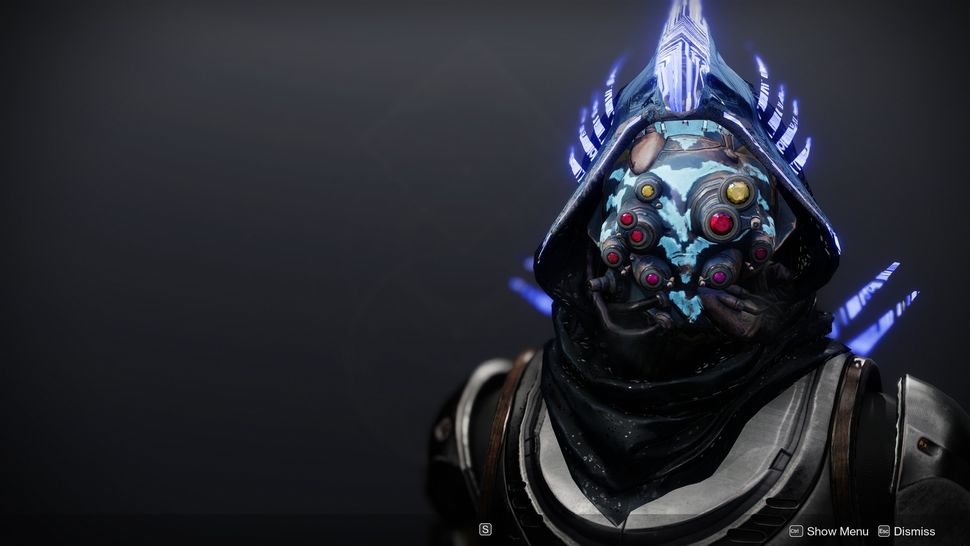 (Image credit: Bungie)
Cyrtarachne's Façade (Hunter helmet): This exotic helmet gives you Woven Mail when you use the Strand grapple ability, providing flinch and overall damage resistance—except for getting shot in the head, that is.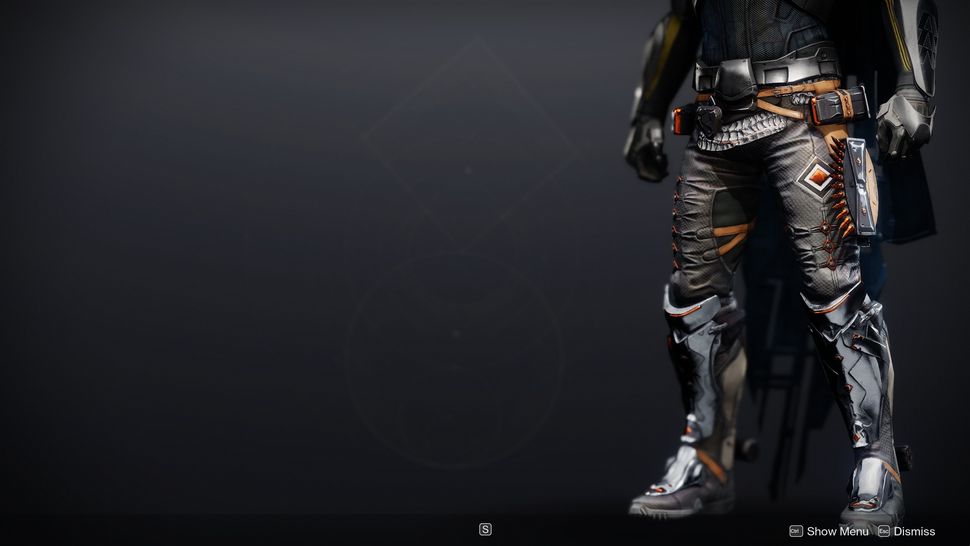 (Image credit: Bungie)
Speedloader's Slacks (Hunter legs): Dodging boosts reload speed, handling, and airborne effectiveness for you and nearby allies. While active, final blows strengthen the buff up to five stacks.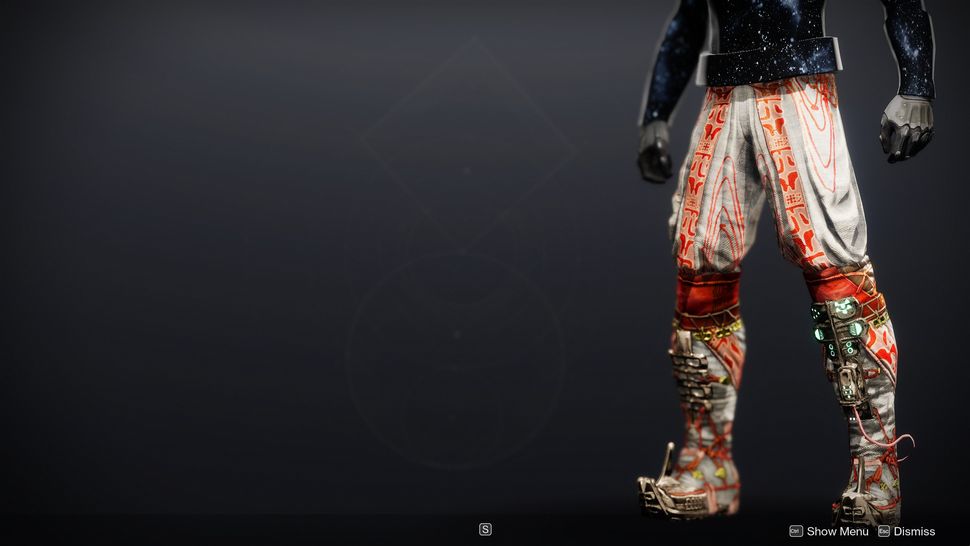 (Image credit: Bungie)
Swarmers (Warlock boots): These Warlock boots spawn Threadlings when you destroy a Strand Tangle, either by shooting one, or by picking it up and throwing it. Your Threadlings also unravel targets that they damage.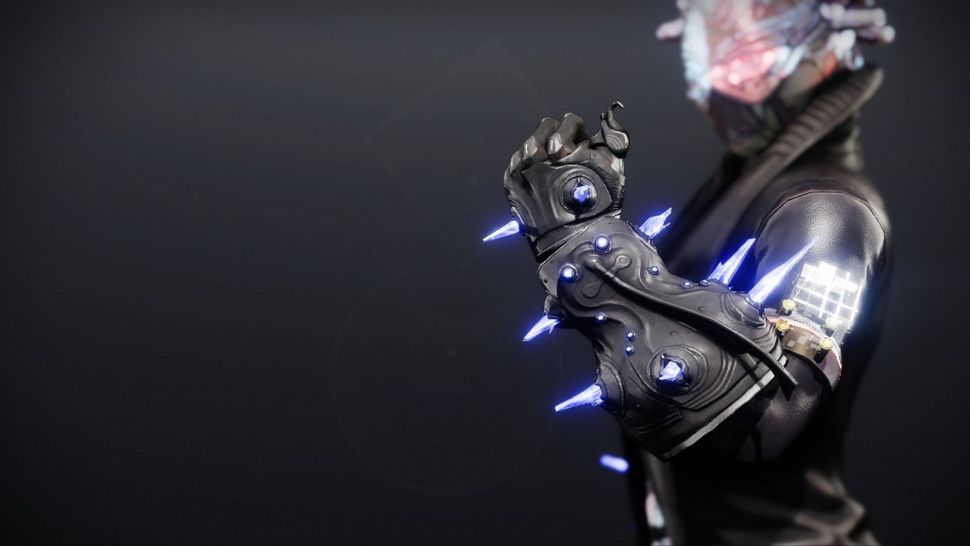 (Image credit: Bungie)
Ballidorse Wrathweavers (Warlock gloves): These gloves make your Stasis Winters Wrath shockwave deal increased shatter damage, and give an overshield and increased stasis damage to allies caught in range of it.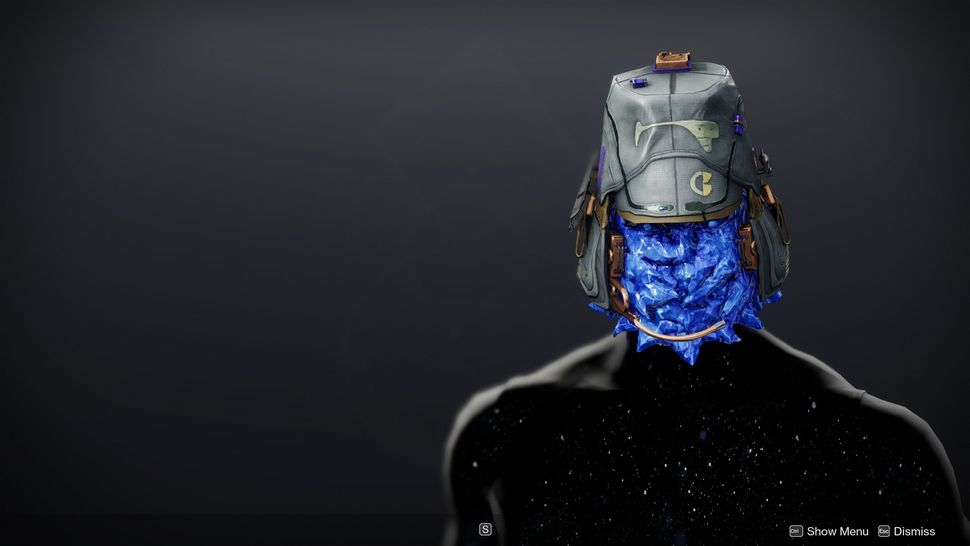 (Image credit: Bungie)
Cadmus Ridge Lancecap (Titan helmet): Diamond Lances create Stasis Crystals on impact when thrown, with more crystals created by hitting bosses and vehicles. While using a Stasis subclass behind your rally barricade, rapid precision hits and final blows with a Stasis weapon create Diamond Lances.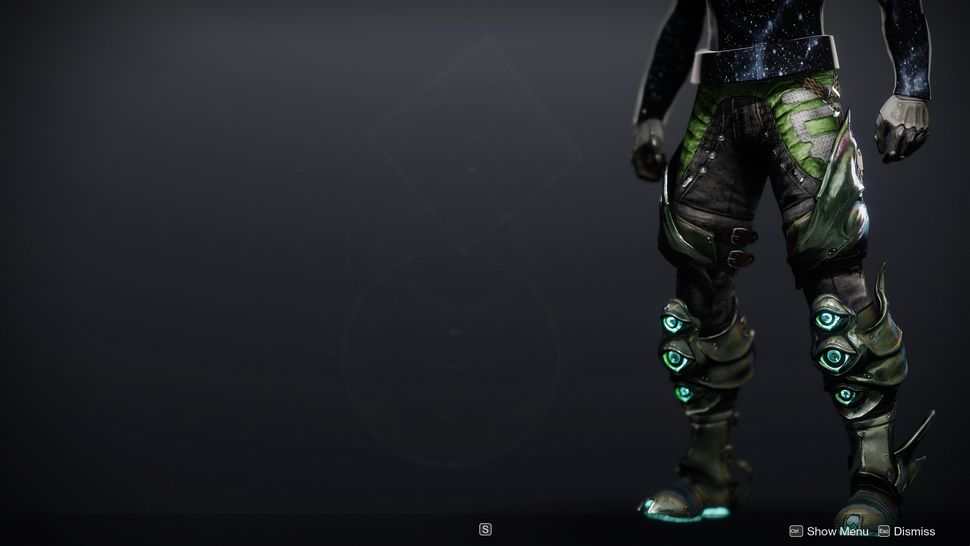 (Image credit: Bungie)
Abeyant Leap (Titan boots): These Titan boots improve the Drengr's Lash Strand aspect, allowing it to spawn two additional lashes when you use a barricade that seek out targets and suspend them in the air. Hitting targets with the lashes gives you woven mail.
Exotic weapons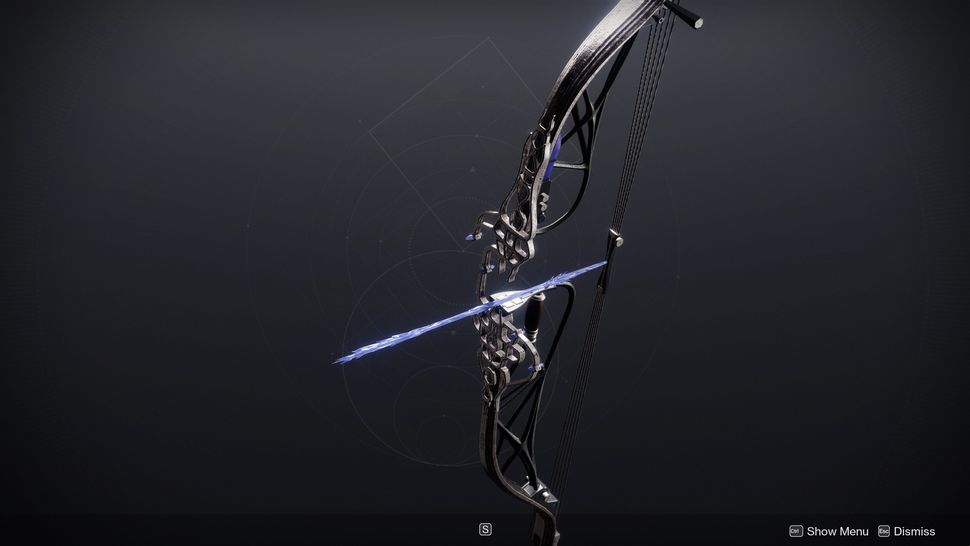 (Image credit: Bungie)
Verglas Curve (Stasis bow): Kind of like a Stasis Ticuu's Divination but the opposite way around. Final blows with this bow grant Stasis arrows that you can then hip-fire at enemies to freeze them and create Stasis crystals.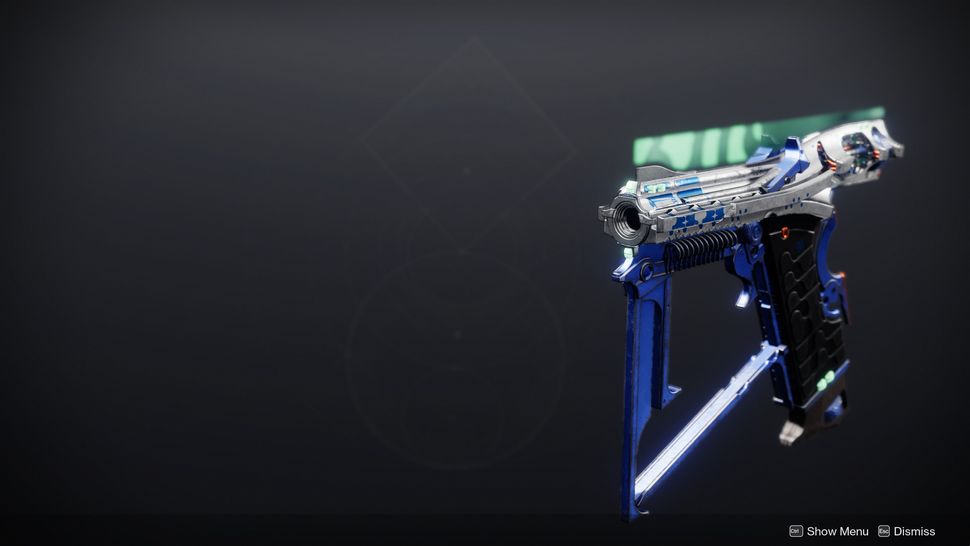 (Image credit: Bungie)
Final Warning (Strand sidearm): This Strand sidearm could be compared to the smart pistol from Titanfall, where you hold down the trigger to mark targets and load bullets, before unleashing a volley of shots. Hitting a marked target with a fully charged burst unravels them.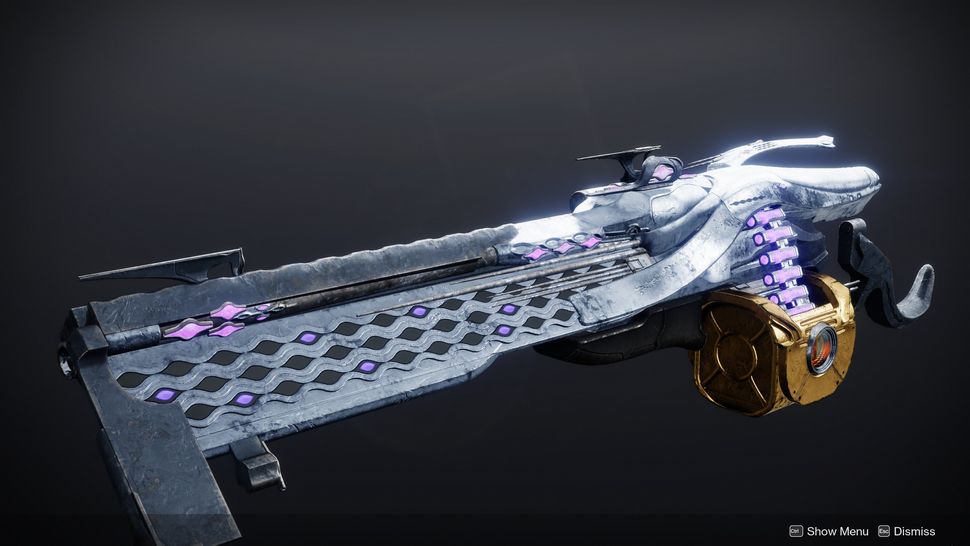 (Image credit: Bungie)
Deterministic Chaos (Void machine gun): This rhythm-based LMG weakens enemies every fourth shot with a Heavy Metal round. The fourth Heavy Metal round you fire makes targets volatile on impact.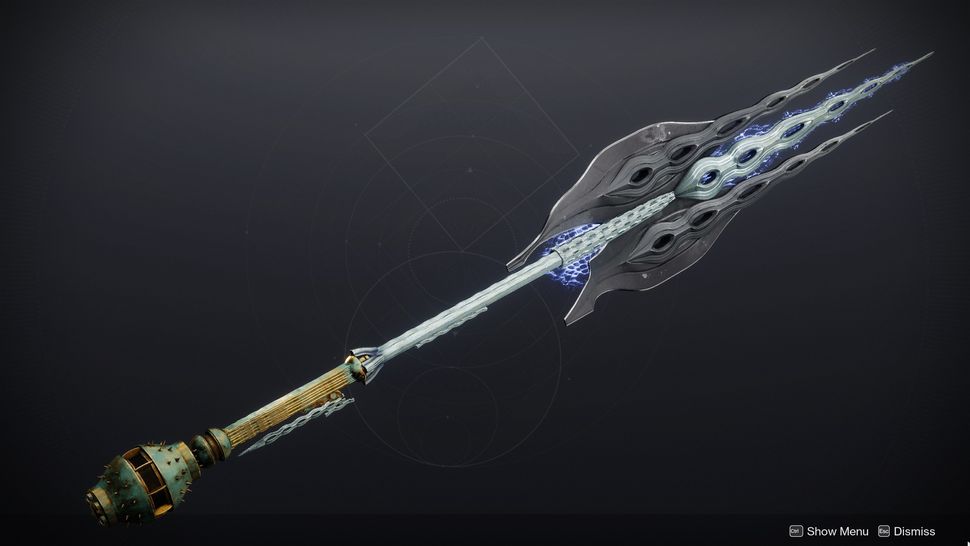 (Image credit: Bungie )
Winterbite (Stasis glaive): This heavy-slot stasis glaive fires a frost orb that floats above enemies, freezing them. Its kinetic melee attack also deals extra damage and slows targets when it's loaded.
Exotic ornaments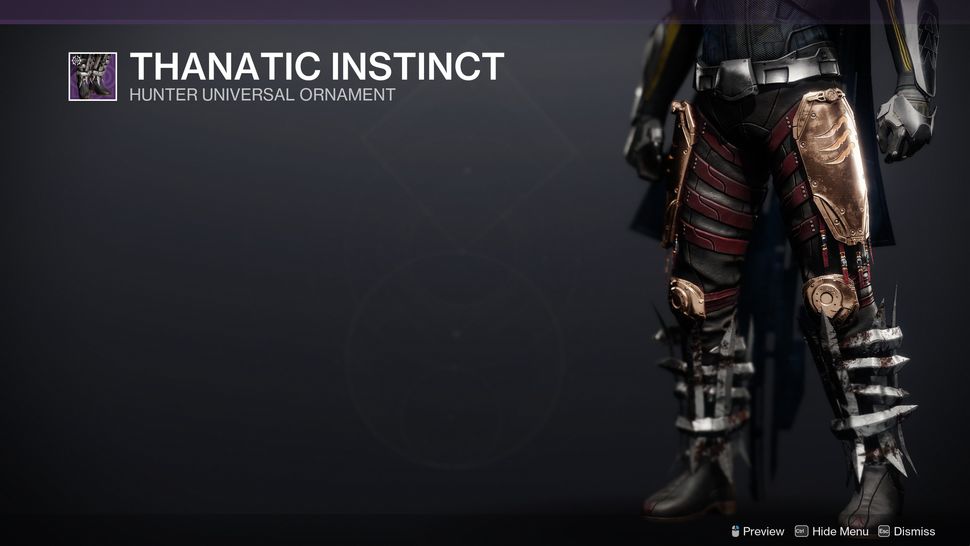 (Image credit: Bungie)
Thanatic Instinct (Hunter legs universal ornament)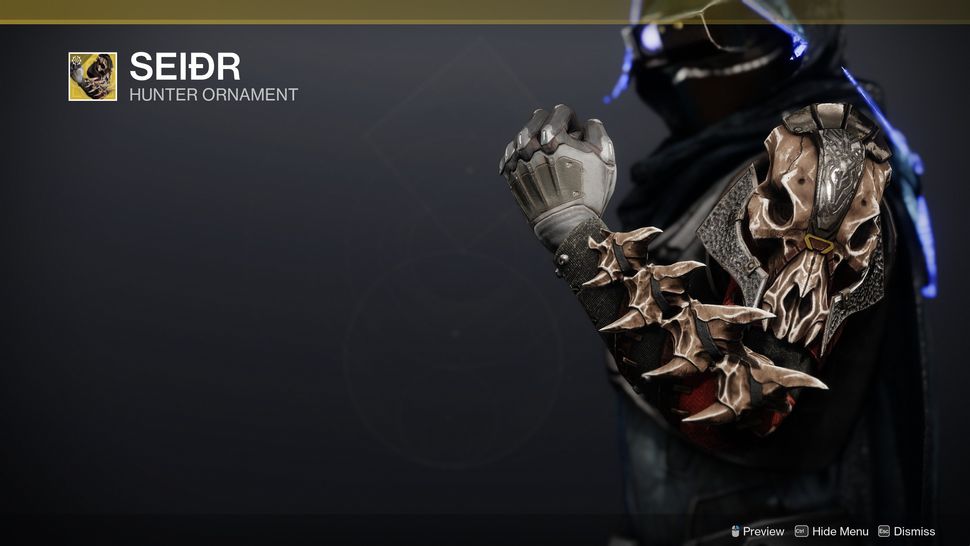 (Image credit: Bungie)
Siedr (Young Ahamkara's Spine ornament)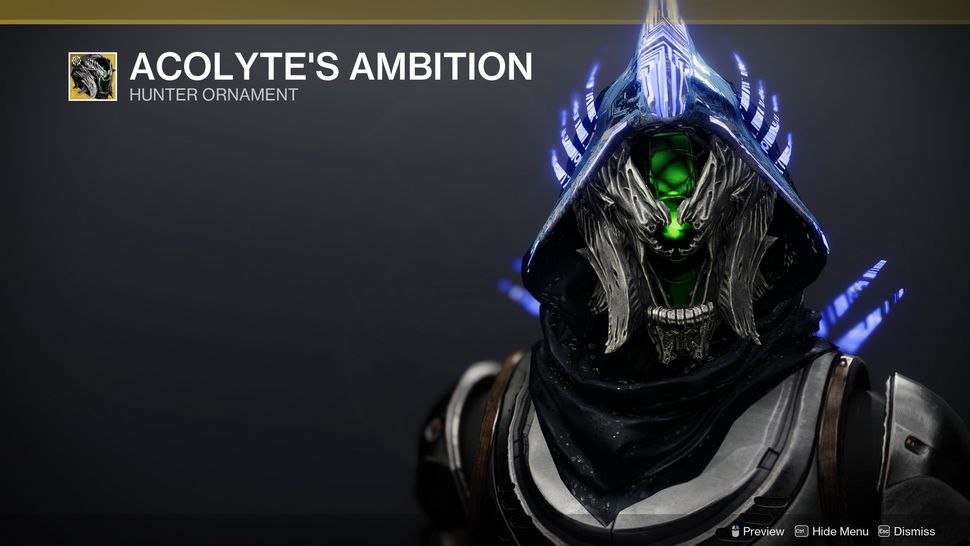 (Image credit: Bungie)
Acolyte's Ambition (Wormhusk Crown ornament)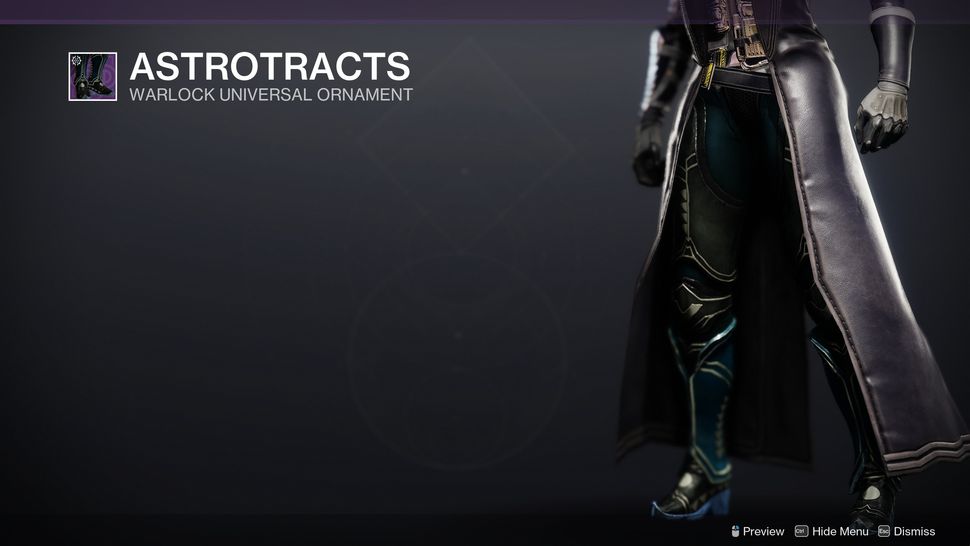 (Image credit: Bungie)
Astrotracts (Warlock legs universal ornament)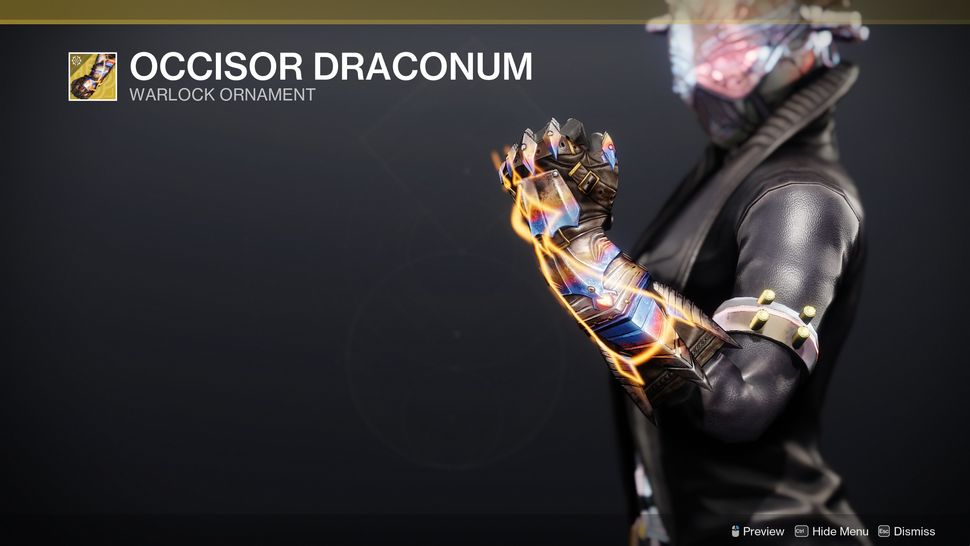 (Image credit: Bungie)
Occisor Dracanum (Sunbracer's ornament)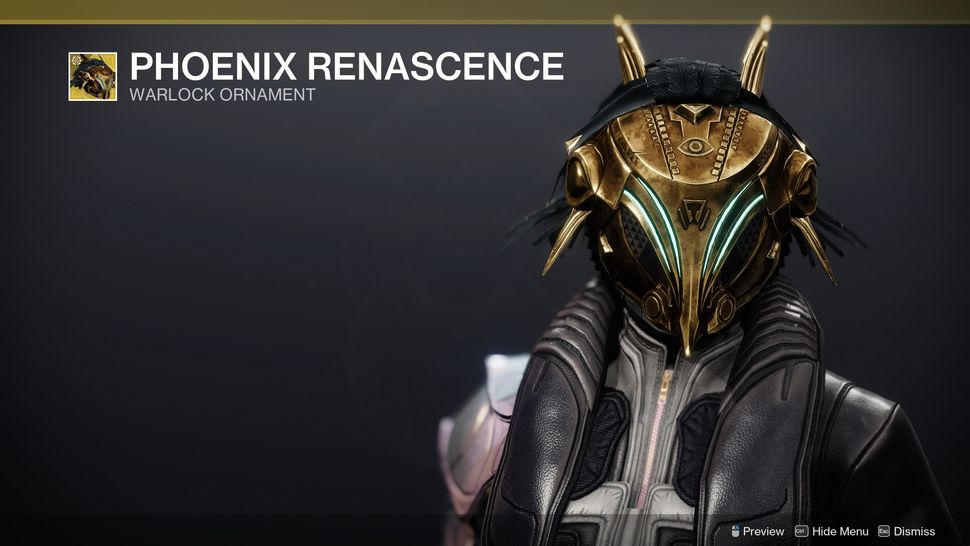 (Image credit: Bungie)
Phoenix Renascence (Dawn Chorus ornament)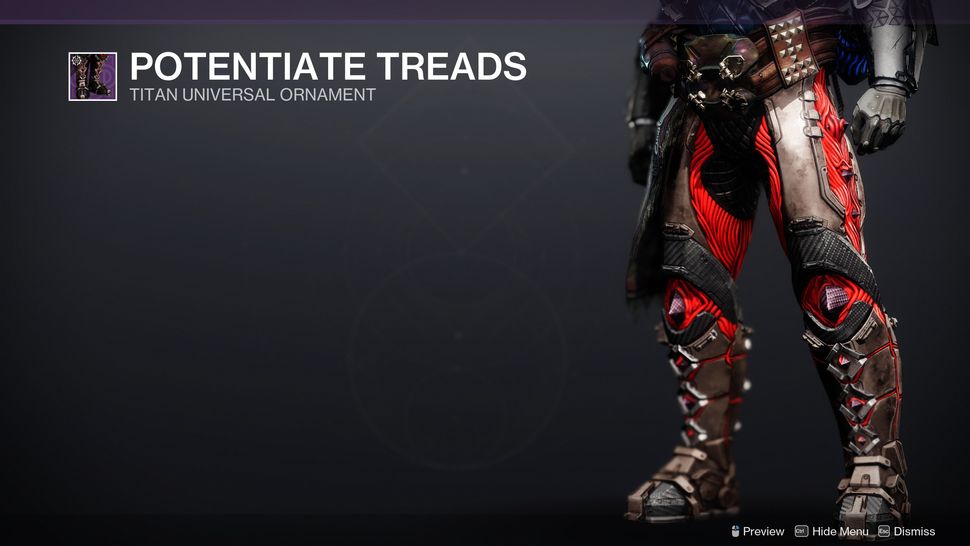 (Image credit: Bungie)
Potentiate Treads (Titan legs universal ornament)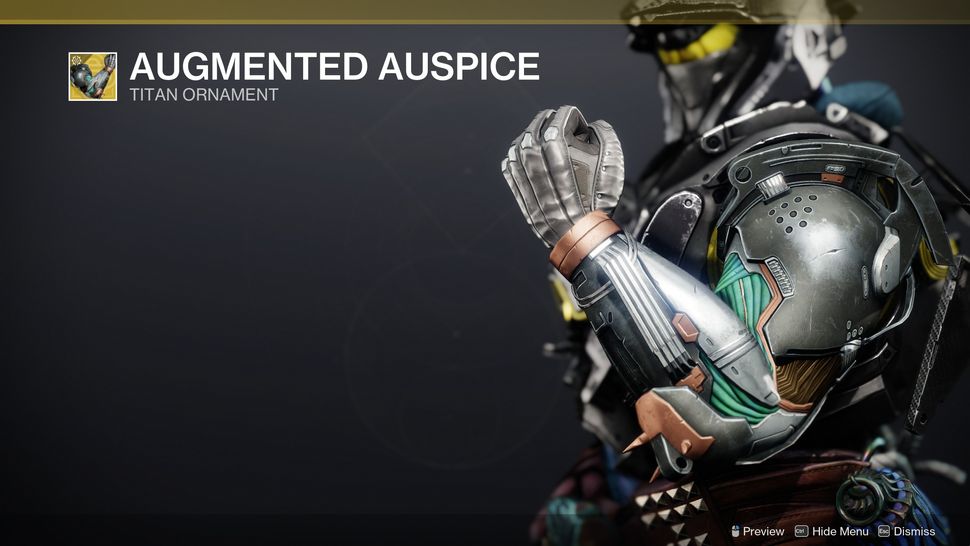 (Image credit: Bungie)
Augmented Auspice (Synthoceps ornament)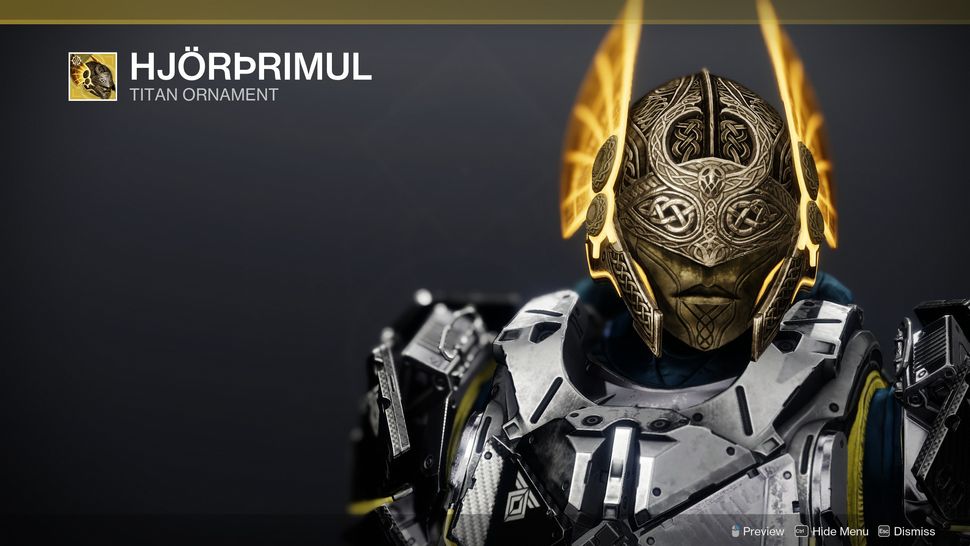 (Image credit: Bungie)
Hjorprimul (Loreley Splendour ornament)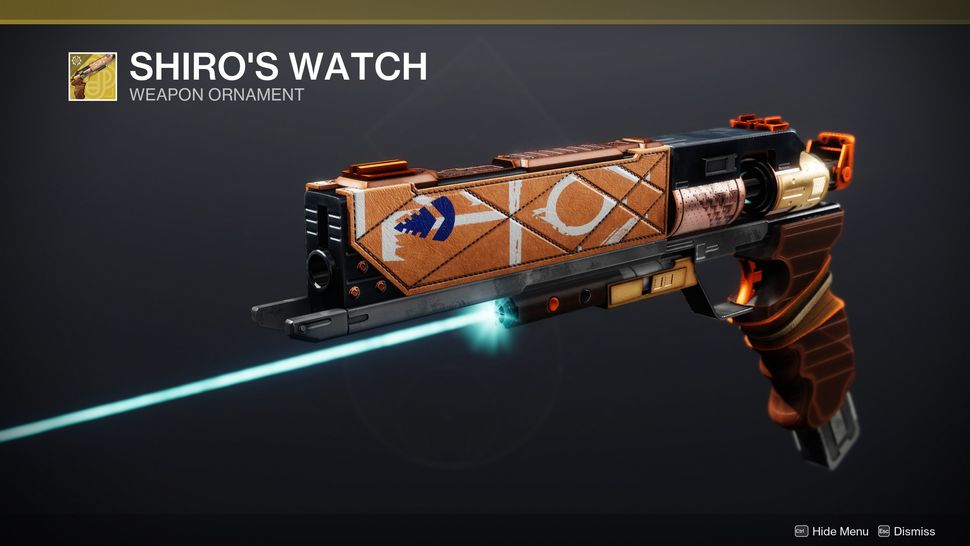 (Image credit: Bungie)
Shiro's Watch (Trespasser ornament)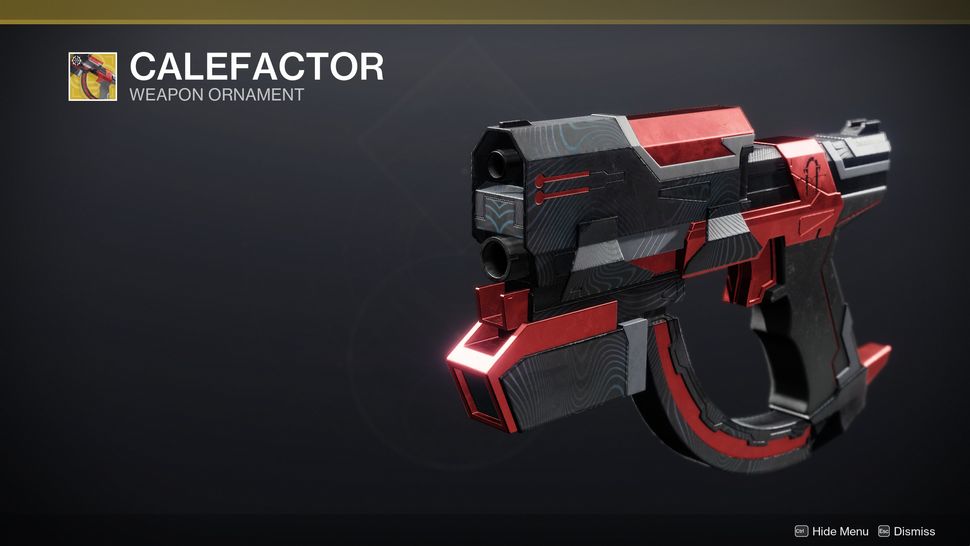 (Image credit: Bungie)
Calefactor (Forerunner ornament)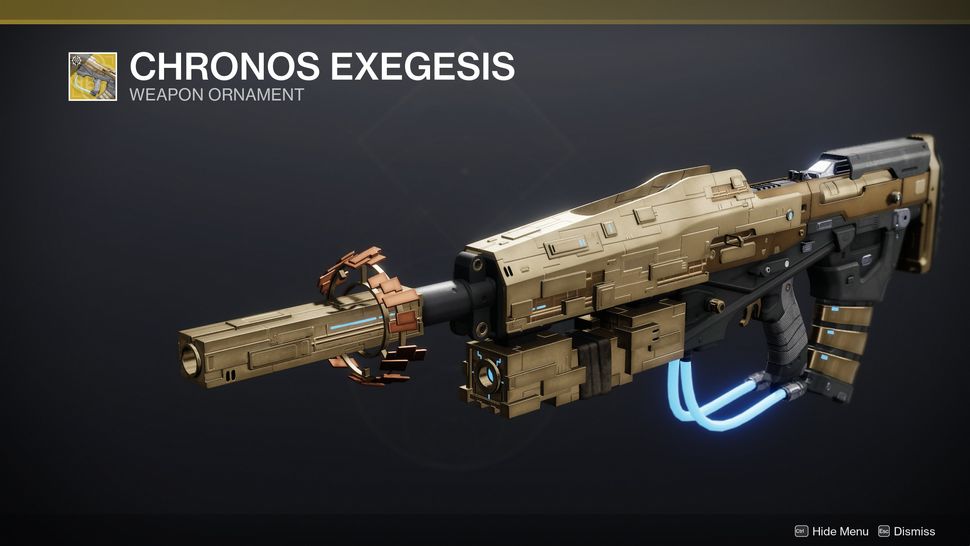 (Image credit: Bungie)
Chronos Exegesis (No Time to Explain ornament)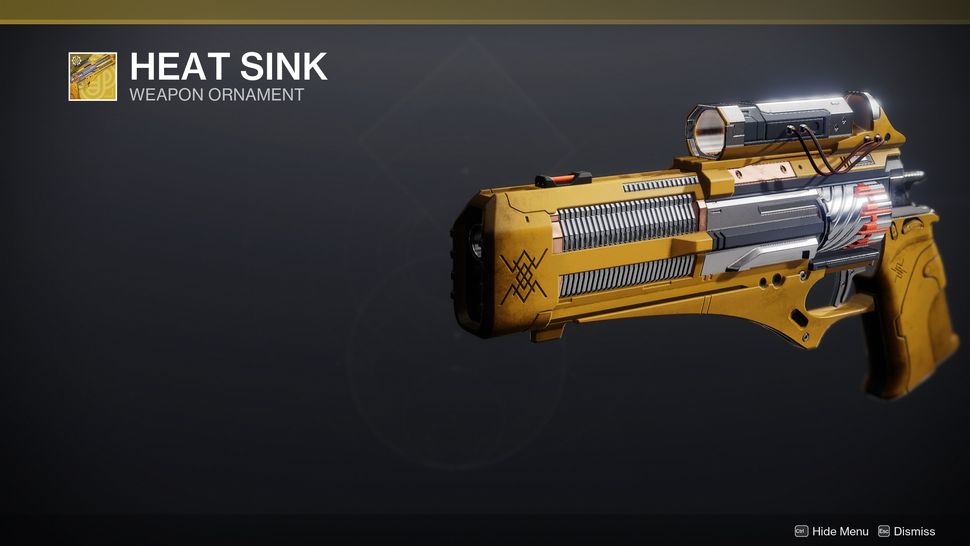 (Image credit: Bungie)
Heat Sink (Erianna's Vow ornament)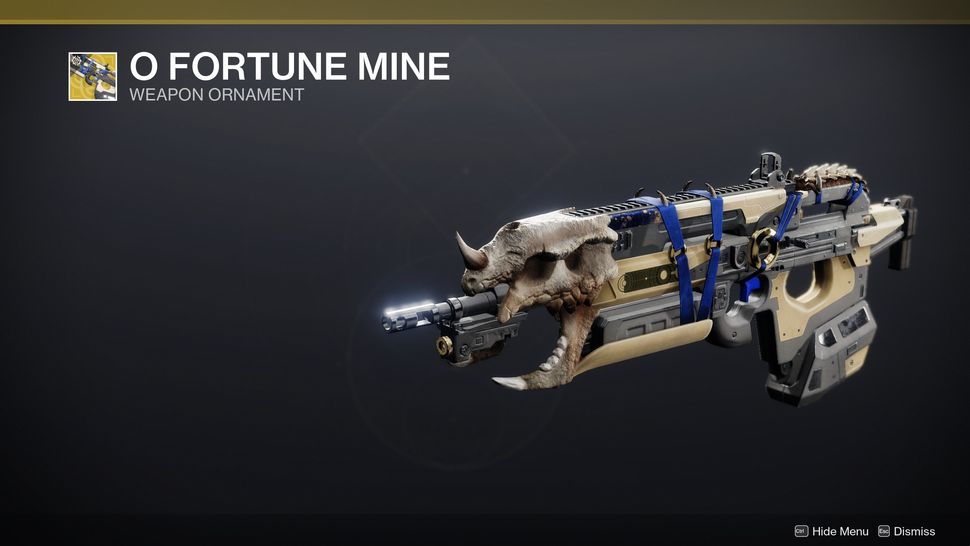 (Image credit: Bungie)
O Fortune Mine (Bad Juju ornament)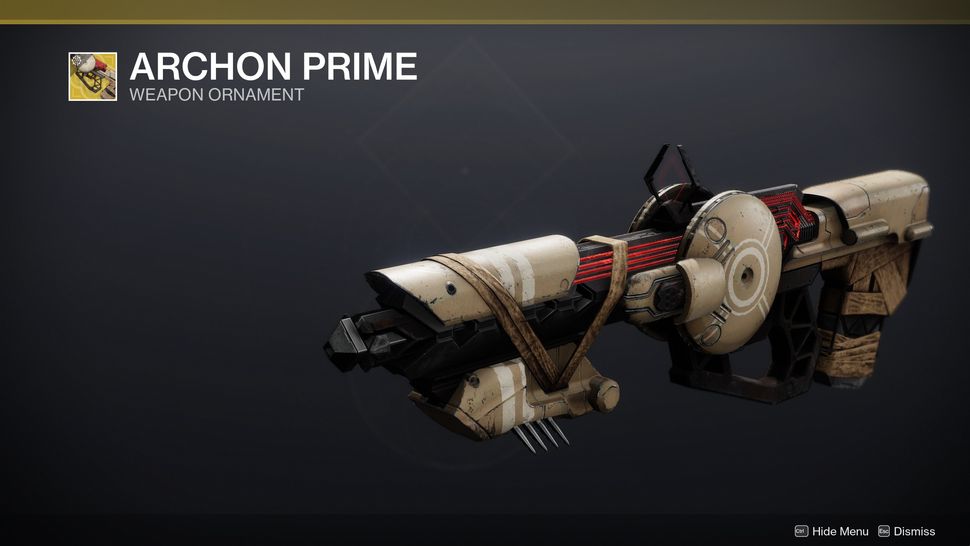 (Image credit: Bungie)
Archon Prime (Outbreak Perfected ornament)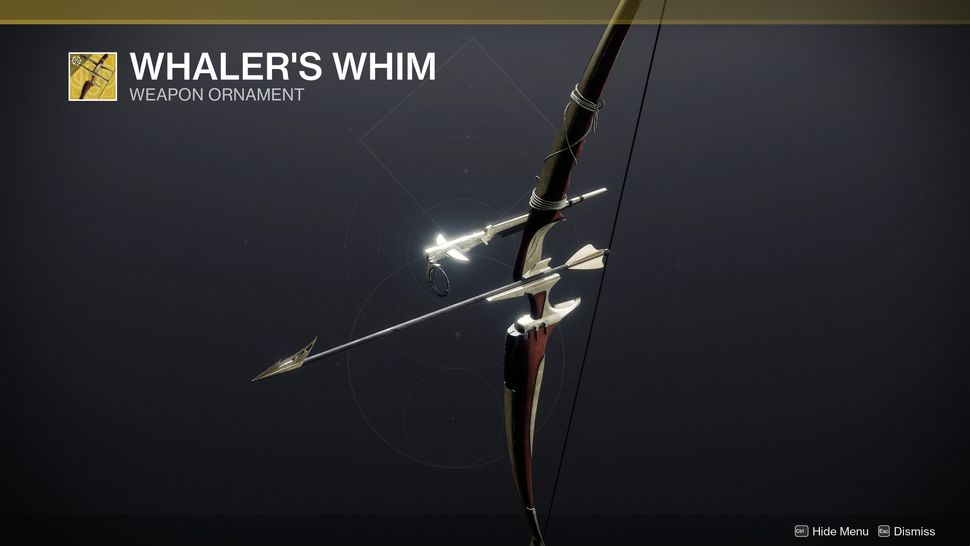 (Image credit: Bungie)
Whaler's Whim (Wish-Ender ornament)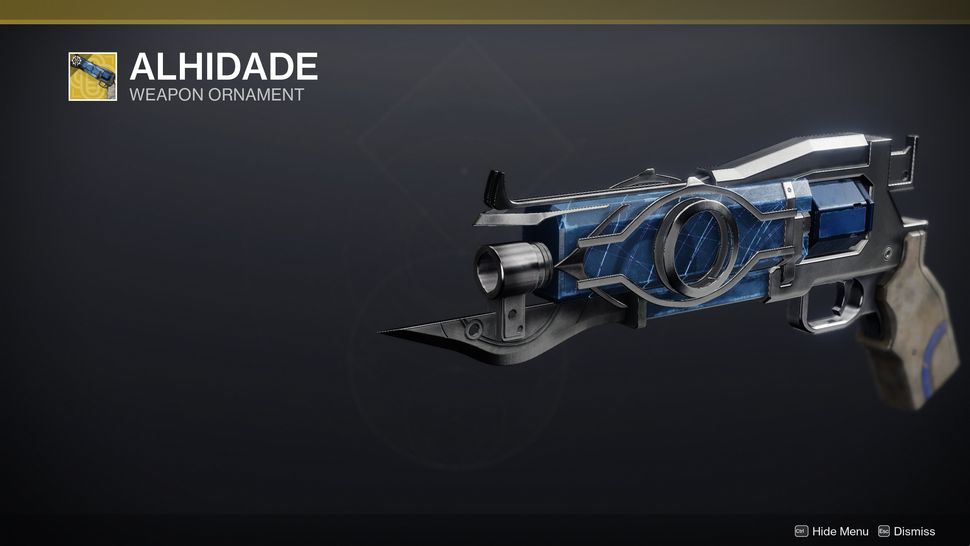 (Image credit: Bungie)
Alhidade (Crimson ornament)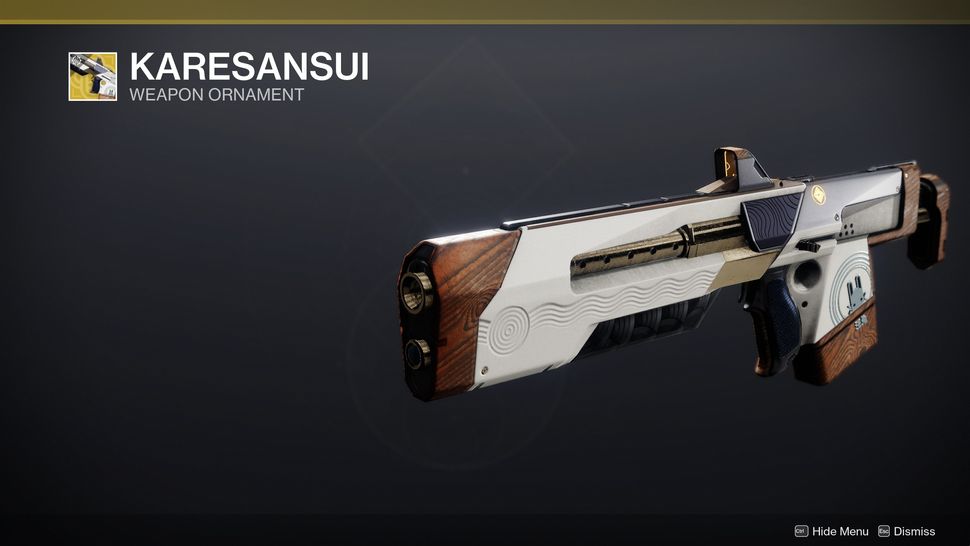 (Image credit: Bungie)
Karesansui (Jade Rabbit ornament)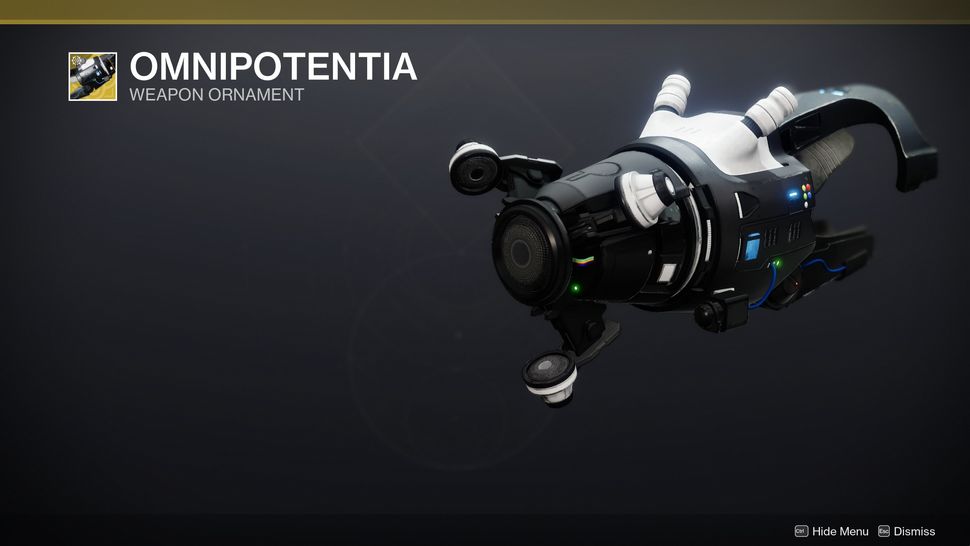 (Image credit: Bungie)
Omnipotentia (Tractor Cannon ornament)
Exotic ghosts, sparrows, and ships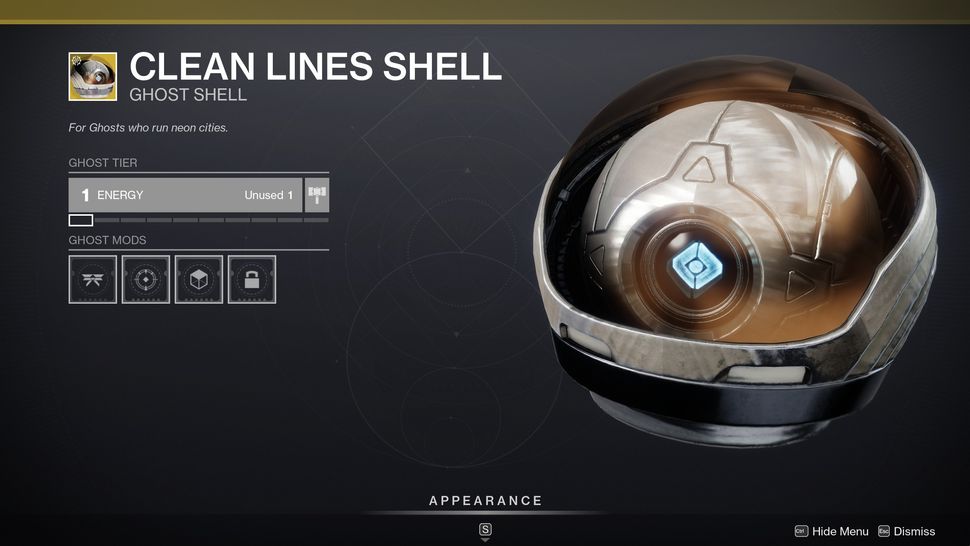 (Image credit: Bungie)
Clean Lines Shell (Ghost)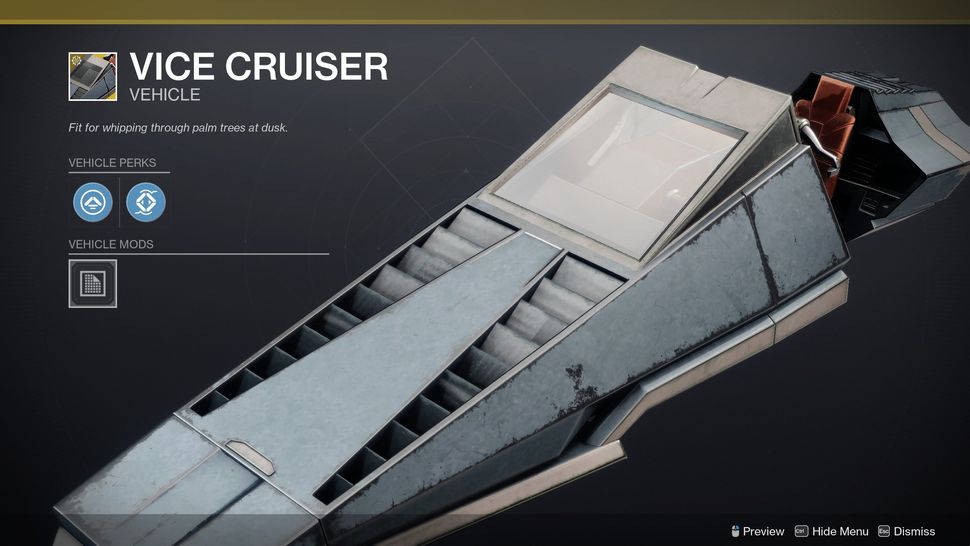 (Image credit: Bungie)
Vice Cruiser (Sparrow)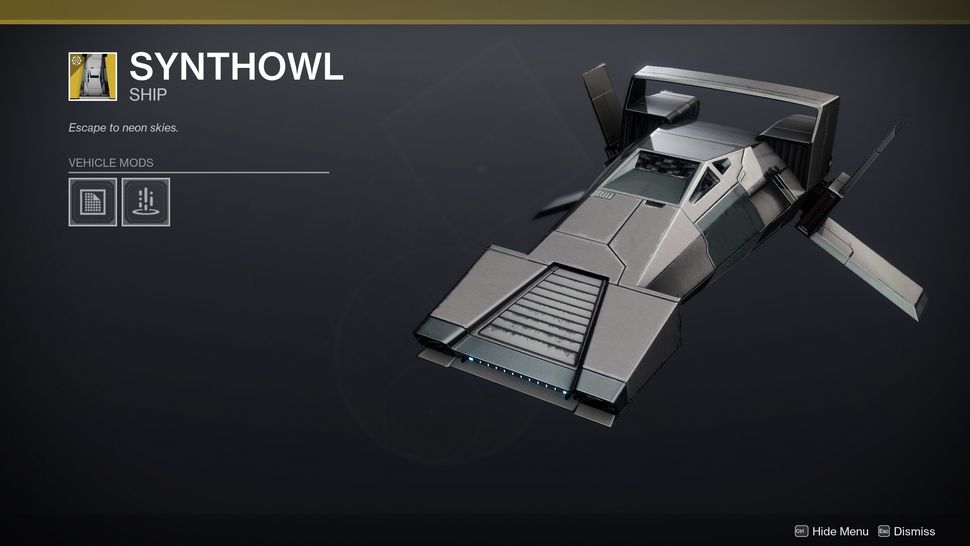 (Image credit: Bungie)
Synthowl (Ship)