And broke some world records while doing it.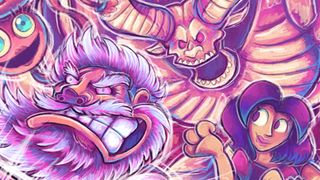 Audio player loading…
Awesome Games Done Quick 2023 wrapped up its array of weird and wonderful speedruns on Sunday following a week-long event. The charity's first event of the year saw lightning-fast playthroughs of games like Dark Souls 2, Neon White, and even an unreleased Steven Seagal beat-em-up (opens in new tab) on the SNES. My favourite thing about Games Done Quick is that fundraising is at the forefront, and Awesome Games Done Quick 2023 managed to raise a staggering $2,642,493 for the Prevent Cancer Foundation.
Games Done Quick announced its total raised on Twitter, writing "Thank you to everyone who made this marathon possible, and to all of you for your amazing generosity and support." It takes the speedrun charity up to $43 million raised since its first event 13 years ago. Over two million dollars is an impressive amount of money to raise and I've always loved how the speedrunning community comes together to break world records and participate in some rather strange speedruns for a good cause. Some of the records broken this year include a six-player Powerwash Simulator run (opens in new tab) and, of course, a new world record for the aforementioned Steven Seagal game. (opens in new tab)
Awesome Games Done Quick 2023 also served as founder Mike Uyama's final event as managing director. He's now stepping down from the role (opens in new tab)to "take a break and a vacation" before "diving headfirst" into his next endeavour. Matt Merkle—who previously served as GDQ's director of operations—has taken over the role. His first event as managing director will be Frost Fatales (opens in new tab), the all-women speedrunning event taking place from February 26 until March 4. After that will be Summer Games Done Quick from May 28 until June 4. 
🏁TIME🏁 #AGDQ2023 has raised a total amount of $2,642,493 for @preventcancer!Thank you to everyone who made this marathon possible, and to all of you for your amazing generosity & support 💙See you all next time at #SGDQ2023 from May 28th to June 4th ⏱️ #ThankYouMike 👏 pic.twitter.com/h3lkCmg0J7January 15, 2023
See more


Source link