This weekend's 24 Hours of Le Mans Virtual was plagued with technical issues and DDoS attacks.
Audio player loading…
World Drivers' Champion Max Verstappen described the 24 Hours of Le Mans Virtual event that took place this past weekend as "a clown show" after technical issues caused multiple red flags and disconnections that eventually led him to retire from the race.
The 24 Hours of Le Mans Virtual (opens in new tab) was launched in 2020 after the Covid-19 pandemic forced the postponement of the real-world Le Mans. The online race, which features drivers from around the world all competing remotely, was designed to be as close to the physical event as possible. It has very strict rules and requirements: Among other things, at least two of the drivers on each four-person team have to be FIA-licensed (or equivalent) professional drivers. Verstappen actually raced in that debut event in 2020, as did fellow F1 driver Lando Norris.
Verstappen has since returned for subsequent Le Mans Virtual events: As a Formula 1 driver and reigning world champ, he doesn't have a whole lot of time to dedicate to sims, but he told the Washington Post (opens in new tab) last week that the 24 Hours of Le Mans Virtual "is very important to me and the team—and we're hoping for a great weekend to bring home the win."
"We treat this like a real, live race," Verstappen said. "We're fine-tuning the car's setup and testing it in the hottest and coldest conditions, in rainy and dry weather, and in both night and day. There are weeks of preparation that go into this, and a lot of people don't realize that."
Unfortunately, the race did not go well at all for him. As explained by traxion.gg (opens in new tab), the opening hours of the event were interrupted by disconnections and two red flags, which halted the racing completely for well over an hour. Those problems were eventually sorted out, but several hours later, Verstappen—who was in first place at the time—suffered a disconnect. Drivers who had previously disconnected were given back laps to effectively erase the lost time, but that didn't happen in Verstappen's case because fewer than four vehicles were impacted. He thus decided to withdraw.
"Look at this. They call it amazingly bad luck. This is just incompetence," Verstappen said as he pulled off the track and retired from the race. "They can't even control their own game. This is already the third time this happens to me now, that we get kicked off the game while doing this race."
In a post-race FAQ, 24 Hours of Le Mans Virtual executive producer Gérard Neveu appeared to blame the technical problems on possible DDoS attacks.
"It became clear within the first seven hours of the race that we had some serious server issues which led to us showing the red flag on the race twice," Neveu said. "After some initial investigation, it seems that some race competitors accidentally shared to the public the IP addresses connecting them to the server, which is not supposed to happen. 
"This put us in a weakened position, and we were subjected to some security breaches which caused the global disconnection of all competitors. It should never happen if the IP addresses are well protected."
A disconnect for @Max33Verstappen and @TeamRedlineSim from the lead of the race 😬#LeMansVirtual Powered by @TraxionGG pic.twitter.com/bCILhnI9l1January 15, 2023
See more
DDoS attacks are unfortunately common in online gaming, but Verstappen—perhaps holding this event to a higher standard than, say, a round of Warzone—was clearly not in the mood for excuses. Neveu confirmed in the FAQ that the Le Mans Virtual race would return in 2024, but Verstappen said he won't take part in it.
"What's the point?" he said after leaving the race. "You prepare for five months to try and win this championship, you're leading the championship, you're trying to win this race which you prepared for two months, and they handle it like this. I mean there have been two red flags, they blame it on, I don't even know what, people DDoSing the server … Honestly, it's a joke. You cannot call this an event. It's a clown show."
It's possible that Verstappen may change his mind by the time 2024 rolls around. It was, when you get down to it, a ragequit of sorts, and the vow to not return came in the heat of the moment. Neveu also pledged a "full investigation" into the problems and said organizers "will look at our processes and guidelines to try and reduce [the] chance of similar issues taking place in 2024," and depending on how that works out it could also help change his mind. For now, though, Verstappen sounds very much like a gamer who's had enough. 
"I think I'm gonna uninstall the game," he said. "That's nice. Frees up a bit of space on the PC anyway."
Interestingly, Team Redline (opens in new tab)—the digital racing organization Verstappen drives for—ended up winning the 24 Hours of Le Mans Virtual race anyway: After he retired the #1 Redline car, the #2 Redline car, driven by Felipe Drugovich, Felix Rosenqvist, Luke Bennett, and Chris Lulham went on to take the checkered flag.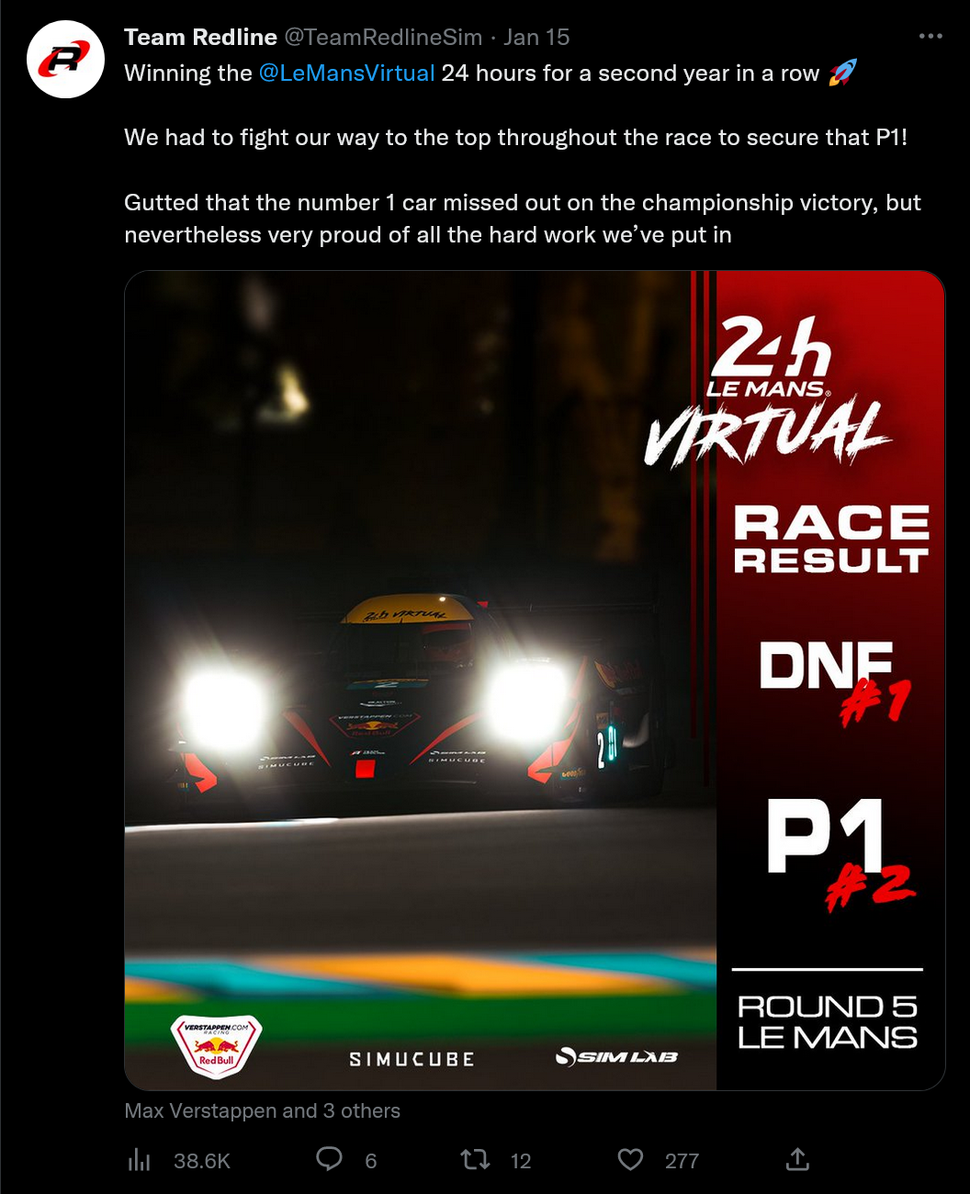 (Image credit: Team Redline)


Source link