The worm turns one final time.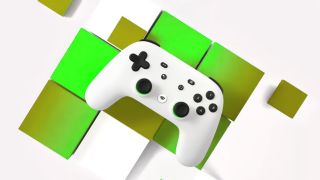 Audio player loading…
Google's Stadia is due to close on 18 January and, in its final weeks, those that enjoyed the service are mourning its demise. It has to be said that, whatever mistakes Google may have made with Stadia, the way the company has handled the wind-down is exemplary (for consumers, anyway). No doubt it helps to have all the money in the world behind you, but the way the company has pro-actively refunded its backers and prepared its controller for future bluetooth use can only be applauded.
The last couple of days of service have brought a somewhat sentimental surprise from the Stadia service: Google has released the first game Stadia was ever used for, an internally developed version of Snake called Worm Game. This solo and multiplayer title was "used to test many of Stadia's features, starting well before our 2019 public launch, right through 2022".
The description says this is a "humble" title and "won't win Game of the Year, but the Stadia team spent a LOT of time playing it, and we thought we'd share it with you. Thanks for playing, and for everything".
Is that a speck of dust in your eye? Worm Game feels like it must be some sort of closure for the engineers and talent that made Stadia work, and a final flourish for technology that at one point aimed to upset the whole games industry's pecking order. Why and how Stadia failed to reach a large enough audience would be a whole other article but, whatever reasons there may be, the technology did work. And while Stadia may not have become what Google wanted, game streaming is undoubtedly going to persist as a strand in the industry and, over time, is likely to become a method through which many play their games.
Stadia will close at 11:59pm on January 18, and here's a detailed FAQ about the service's shutdown. Until that time Worm Game, once the test case for a service aiming to shake up the gaming world, will have its brief moment in the sun.