The long-awaited co-op survival horror game is preparing to enter early access.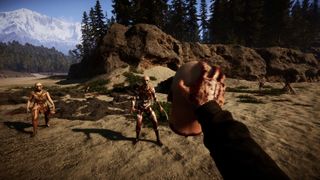 Audio player loading…
The long wait to play co-op survival game Sons of the Forest (opens in new tab) is nearly over, and soon you'll be able to set foot on a mysterious and dangerous island, either on your own or with up to eight players in co-op. You'll need to gather resources, find food and fresh water, craft weapons and gear, build a base, and defend it from the island's terrifying cannibals in this sequel to Endnight Games' The Forest (opens in new tab).
If you're a survival fan you're probably eager to play, especially since the release of Sons of the Forest has already been delayed a few times. Here are the Sons of the Forest release times, broken down by region.
Sons of the Forest release times
Sons of the Forest is set to release into Steam Early Access on February 23, and will unlock globally for players at 9 am PT. Here's how that translates to other time zones:
Los Angeles: 9 am PTNew York: 12 pm ETLondon: 5 pm GMTParis: 6 pm CETSydney: 4 am AEDT (Friday)
Click here (opens in new tab) to add your own timezone if it isn't listed above.
Currently there's no option on Steam to pre-load, or even pre-purchase Sons of the Forest, though the price is expected to be $30. The developers have said they expect the survival game to stay in early access for 6-8 months, though that may change based on player feedback.
If you're looking for more information on Sons of the Forest, a multiplayer trailer showing co-op building and horrible fleshy nightmare monsters (opens in new tab) was recently released. It's also become the most-wishlisted game on Steam (opens in new tab), even over Starfield, so you should have plenty of company if you decide to play it tomorrow.