I've seen the technical heart of Alpine, the F1 team bringing Formula One's obsession over data to sim racing tournaments.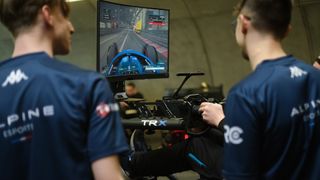 It's no secret that sim racing enjoys many similarities to on-track motorsport. Foremost, there's a mechanical similarity to them both—you could slam a brake pedal or wrestle with a steering wheel on the track or from the comfort of your own home. Yet in the highest tranches of sim racing competition, there's more to it than that. From the F1 Esports Series calendar to the gruelling Virtual Le Mans, F1 teams are beginning to import their obsession with data to the digital racing world.
Data is an immensely powerful tool for F1 teams. Every team on the grid is running clusters of high-performance data centre hardware to take sensor data streaming in from every inch of their F1 championship cars, analyse it, and share it with massive departments of personnel. All in the hopes of finding something that'll deliver one one-hundredth of a second, maybe one one-thousandth of a second, in a lap. Accumulate a couple of time-saving aero adjustments, or save some weight by machining something a different way, and you could jump from qualifying 10th to qualifying 1st in Formula One.
F1 is all about "taming highly unstable systems through data," as Alpine's enterprise data architect and former head of F1 power unit performance department, Zouhayr Alami, puts it.
It's this obsession with data collection that wins championships, and why F1 team Alpine is looking to harness data as much and apply it in the world of esports.
Alpine isn't alone in its interest in esports as an F1 team, and it sounds like most teams on the grid are investing more time and effort into data analysis. But I've visited French team Alpine's hub of F1 operations, a vast tech facility in Enstone, UK, to talk to the Alpine esports team looking to push themselves further in the F1 Esports Series (opens in new tab), Le Mans Virtual Series (opens in new tab), and its own Alpine Esports Series (opens in new tab).
Alpine's Enstone base is an unassuming place, more or less surrounded by farmers' fields, nevertheless it's where the Alpine F1 team, formerly branded as the Renault F1 team, are working on their 2023 F1 contender, the A523.
We want to use the tools that we develop in F1 to see if we can gain performance in esports.
Guillaume Vergnas, Alpine esports head
In this facility it's obvious what a massive role data plays in the competitiveness of an F1 team every season. F1's pre-season testing is live while I'm in the building, and everywhere I look is a graph, a spreadsheet, or a timing table updating in real-time from a car sitting in a garage in Bahrain. I see the sensors all laid out to collect precious data on the A523's 2023 latest ground-force effect floor as it's sitting in wait for assembly. But, sorry, strictly no photos.
It's no surprise that an F1 team is such a well-oiled machine, but what I do find surprising is how much Alpine is looking to bring this level of data gathering into its sim racing ventures, including the F1 Esports Series and Le Mans Virtual Series.
"We want to use the tools that we develop in F1 to see if we can gain performance in esports," Guillaume Vergnas, Alpine's head of esports, tells me.
"The amount of data, if you can put it together, the F1 esport grid is so packed that sometimes the right call, at the right time, that's a race win. A race win is a lot of points, and a lot of points is a championship win."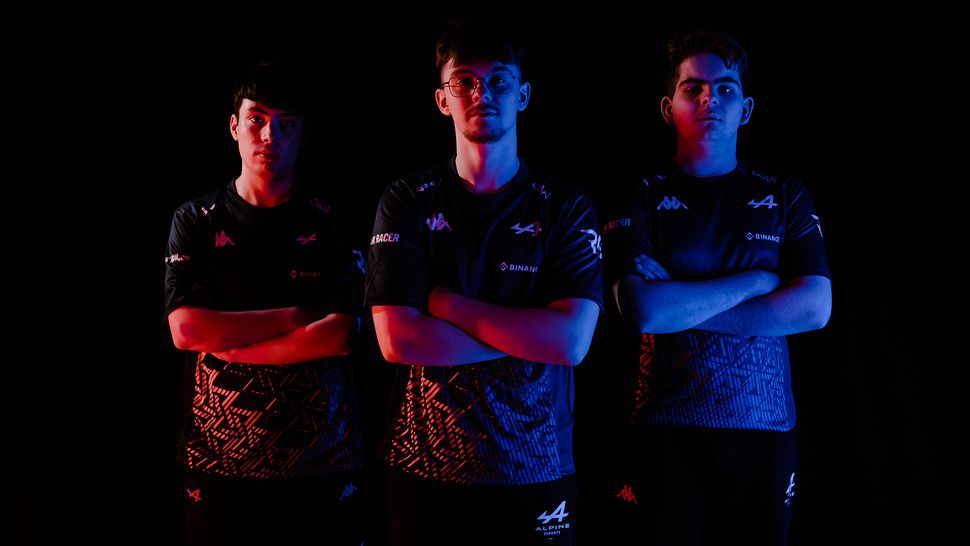 Rubén Pedreño, Patrik Sipos, and Luke Smith make up the F1 Esports team. (Image credit: Alpine)
Sensory overload 
In Formula One, roughly 35GB of data is generated in a single race per car, via various sensors embedded in a car. This data is subject to various rules and regulations, winding through the FIA and towards the teams, which then beam it onward to operations rooms across Europe to be analysed and understood by various departments. It includes everything from g-forces to brake temperatures and vital signs of the drivers.
But even for data-obsessed F1 teams, there is an end to what can be measured.
You can monitor anything you want.
Zouhayr Alami, Alpine data engineer
"There is something that limits the number of information streams of data: we have a bandwidth limitation. Basically, you want to be fast and have the data so you cannot put 10,000 channels on the telemetry system. And before that, the more sensors you add on the car, the more weight. So, on the engine side, we try to have minimal sensors," Alpine data engineer Alami tells me.
"And what we try to do is to have lower physics inside the software to compute information from the sensor. So you don't measure it, but you put in the equations of the physics, so you have one less sensor that can fail. If you can't control that phase, then your engine will slow down a lot."
"That's not a problem in sim racing."
In esports the collection of data is not limited by weight considerations, mechanical failures, or, as is the case with F1, the governing body of the sport, the FIA.
"There is no weight for a sensor, no reliability, so you can monitor anything you want. And even something that you cannot measure. Typically [these games] have tire degradation in percentage. That's the dream of a tire engineer because he tries to build models and he sees the degradation in a drop in lap time and the driver complaining. They have more power into sensors.
"Then you have to leverage that data to analyse and know where you can get better."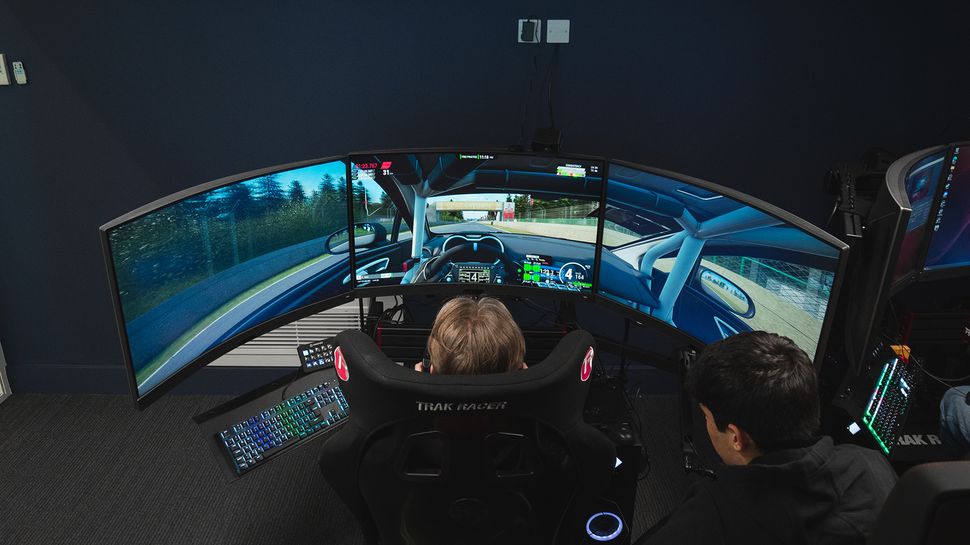 Tobii eye tracking now features in the Alpine esports setups as a data collection tool, measuring where drivers are looking into corners and where their attention is focused. (Image credit: Alpine)
Data-driven 
The job of utilising this race data falls on the shoulders of people like Richard Arnaud, Alpine Esports team principal & Race Clutch CEO. An ex-sim racer himself, Arnaud started out at a time when there was little to no data from sim racing games.
"Before when we were doing sim racing, we didn't have that data—that help in terms of driving techniques, basic telemetry tools. We had to set up some things here and there," Arnaud says. "But now, the analysis of the data will be driven more towards processes and analysis.
The idea for us is to make sure that they hit that perfect way of driving faster.
Richard Arnaud, Alpine team principle
"Now [data] is more and more important, I would say, for any team, because it gives us markers."
Arnaud believes that data could be a race-winning tool for those teams that harness and understand it best each and every season. 
"You need to be as much as possible within the driving style of the simulation itself,"  Arnaud continues. "And so all those tools, the idea for us is to make sure that they hit that perfect way of driving faster."
DRAMA ON THE FINAL LAP!As the #36 @AlpineRacing chases down the #53 @WilliamsEsports for P3 in LMP, they come together whilst lapping the #51 @FerrariEsports GTE😱 pic.twitter.com/pnlKxrtFbMJanuary 15, 2023
See more
With drivers spending up to 12 hours of their day gathering telemetry, analysing, and developing their race craft, there's plenty of data to sift through. But it's how a team wields all that data that counts. Because when you can monitor everything, it's what you choose to pay attention to that's most important.
"You can have all types of information but at the end you need really the one that matters."
"These are the ones that we're working on and trying to continue to improve the decision making process and also simplify for the drivers."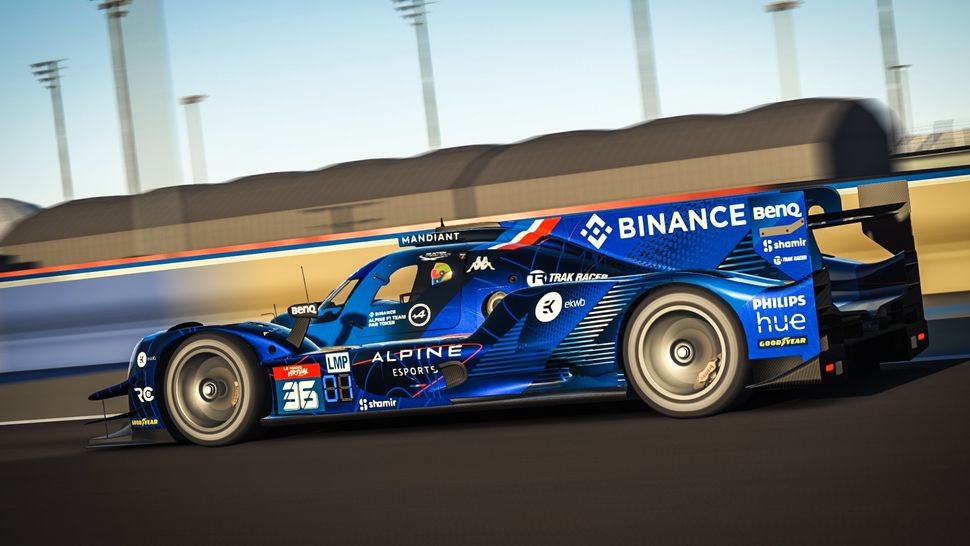 Collin Spork races in the Le Mans Virtual Series, alongside Tom Lartilleux. (Image credit: Alpine)
That's not a dig at the drivers. Arnaud's point is that the drivers have a lot to deal with at any one time, and being able to deliver useful information to a driver in a short message in an instant is more crucial than handing a driver a 34-page spreadsheet on tyre degradation.
"What we do want to do is have the data live. It will be a massive shortcut for us in terms of practice, because if on my side I do see a driver technique that's not really applied or if I can have a comparison between two drivers and I see one is faster by doing one type of corner, I can live give that advice to the other one. And already gain a lot of time in terms of analysis because you don't need anymore to do something for 15 minutes and then to analyse for 15 minutes."
We can simulate the race 100 times if we want to.
Vergnas
That's one of Alpine's goals for the races as they progress, but one way in which drivers can prepare for a race is by re-running the same situations over and over again.
"Imagine if you're doing like two or three simulations, and after those two or three you see that there is a tiny mistake, you can do something to change. It's very hard to change a habit, it's easier to get a new one. And by having the data live then you don't worry about that anymore," Arnaud says.
It's something that sim racing can make use of even more so than F1 proper, Vergnas tells me.
"Because we can simulate the race 100 times if we want to. F1 people, on race tracks, can't do that. We can even try things like keep the car in a straight line in fourth gear and see how the game reacts to that."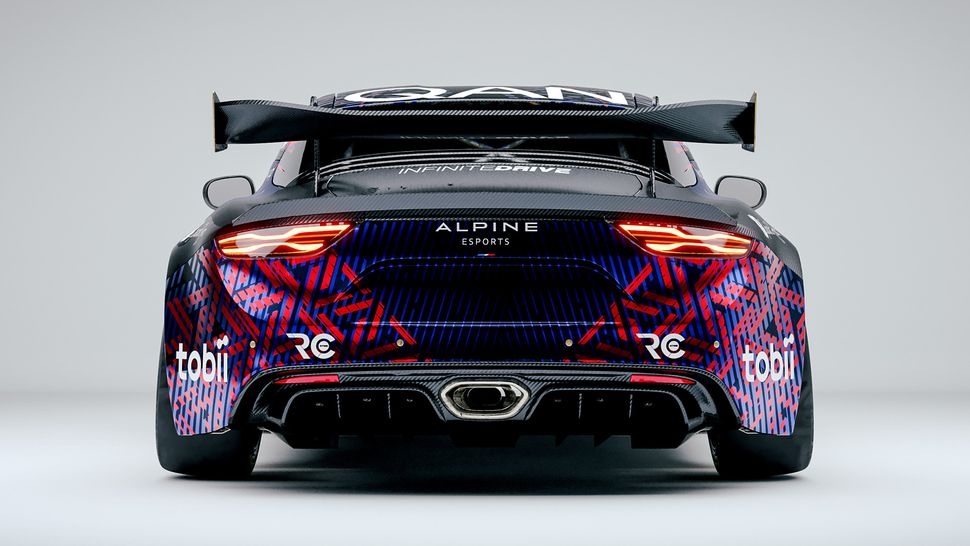 An Alpine A110 GT4 in the new Alpine Esports livery. (Image credit: Alpine)
Line of code or law of physics 
Not all racing games are created equal. In fact, not all racing games like to be called racing games. There's a large gap in data analysis and how it can be applied between a simulator, like rFactor 2 which is primarily for driver and car development, and a game like F1 22, which some refer to as a 'simcade'.
When we prepare for a Formula One race, we're using a sim racing game.
Vergnas
"On rFactor 2 it's a simulation that is much wider in terms of the physics model," Arnaud says. "So here we are really copying what we're doing in the real world, because we have more data by the game, and influence towards the model of the game also makes us more in depth in terms of the engineering. And it's even more related to what is happening in the real world as well."
"When we prepare for a Formula One race, we're using a sim racing game. We're using rFactor 2 in our simulator," Vergnas notes.
rFactor 2 is already in use by Alpine in its F1 simulator, which the team is highly secretive about, as are all F1 teams. I once saw inside Williams' simulator, and I can tell you it puts every sim racing rig I've seen since to shame. But hey, it costs millions to build, operate, and upgrade, so no need to feel down about your home setup.
This simulator software also allows teams to integrate much more real-world data into their runs to better imitate and understand their cars, which is something that other well-to-do racing sims, such as iRacing, also strive to achieve with advanced models, including those for tyre degradation and tyre grip.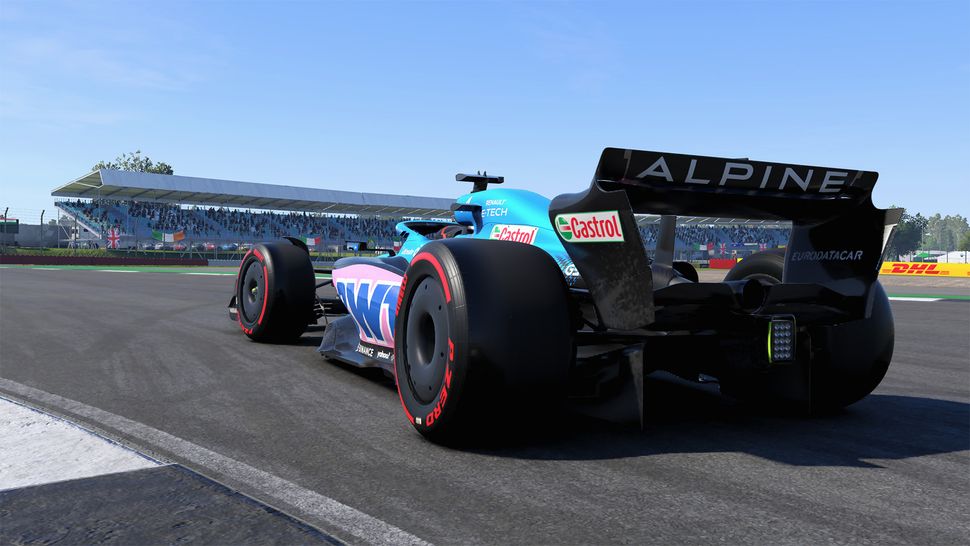 It's all about getting to grips with the latest F1 game as it arrives. (Image credit: Codemasters)
In F1 22, there's admittedly less to work with, but that's not to say there's no benefit to diving deep into the data it provides. Quite the opposite, in fact.
"Even if we're saying that the Formula One game is a simcade," says Arnaud, "those things at this level of performance do have an impact. A small margin like one or two percent tire wear improvements sounds like nothing, but it can be like half a tenth or just what you need the extra juice in a tire to make a move or to just get the faster lap."
You need to be going for perfection.
Arnaud
However much data there is to digest from a racing sim, it's the same core process to analyse and understand it—be that for F1 22, iRacing, rFactor 2, or a real-life F1 race. As Alami notes in a presentation: "Line of code or law of physics, it's the same reverse engineering process."
What appears to be on course to happen is that these simulators and games offer more bespoke modelling systems for teams and drivers to play with. We already see that to some extent today, in those in-depth simulators where driver set-ups are finessed at a granular level. Yet there's clearly a path to even more advanced systems.
"At some point maybe the car could be designed by engineers. Then we put them into the same fluid dynamics software, we get numbers of drag lift and everything, and that's implemented in a simplified model and then you design your course and it runs in the sim world," Alami says.
Race on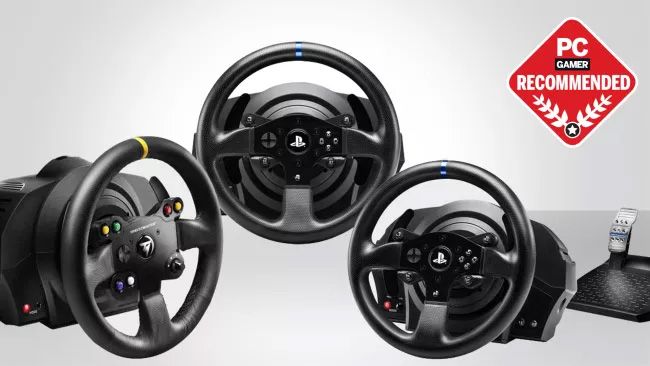 (Image credit: Future)
Best PC racing wheels (opens in new tab) : perfect for any circuit.
Best VR headset (opens in new tab): which set is right for trackdays?
"So you could have those kinds of things with a proper design, you characterise it with some software, then you put a simpler model into the game."
It's important that the model is simplified, however, as Alami notes, "you cannot basically make a computer run computational fluid dynamics real-time. We have a cluster for that."
Today, we've got real-time ray tracing, which was thought to be near-impossible when it was first conceived, so how about real-time computational fluid dynamics next? Actually, no. Don't hold your breath. It can take thousands of hours for even a complex, many-cored compute cluster to run a complex CFD simulation—just imagine those CFD simulations run by F1 teams. Even our wildest simulated dreams won't work like the real thing anytime soon.