Reddick was a noted character actor with numerous appearances in film, television, and games.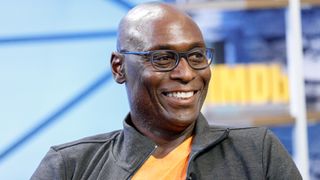 TMZ (opens in new tab) reports that Lance Reddick, who starred in numerous films and television series and provided the voice of Titan Vanguard Commander Zavala in Destiny 2, has died at the age of 60.
Reddick (opens in new tab) was a classic "that guy" character actor, who portrayed memorable roles in a string of acclaimed movies and shows—typically as stern and intimidating, but also principled and sometimes compassionate characters. His best-known television roles include lengthy stints as Cedric Daniels in The Wire, Philip Broyles in Fringe, and Irvin Irving in Bosch.
On the silver screen, his biggest splash was probably as Charon in the John Wick films. Reddick took the character from a minor role as a hotel manager in the first film to an active participant in extreme violence as a skilled assassin in his own right in the third. He was slated to reprise the role in John Wick 4, which will be out on March 24. 
To gamers, though, he was probably best known as Zavala, the dour Titan of Destiny 2. It was a character he fully committed to, and not just within the games: In 2021, he thrilled the internet by reading Destiny 2 memes in Zavalas's voice. It's pretty fantastic: Believe me, you haven't heard the words "They casually began wielding the Darkness to clap ass in new ways" until you've heard it in that uniquely deep, commanding voice.
It's no overstatement to say that Reddick's stint across the Destiny series has carried a lot of the story's narrative, from discovering Zavala's painful back story in Season of the Haunted, to watching him deal with the burden of leadership after Cayde-6's death, and his pivotal role in forming an alliance with the Caital's Cabal. For fans he'll forever be remembered for being a good enough actor to sell Bungie's often barmy stories with so much heart and commitment. Take a listen to his iconic intro monologue to the Cerberus Vae III strike from the original Destiny and it's impossible to imagine anyone else making it sound so cool. "Whether we wanted it or not, we've stepped into a war with the Cabal…" 
Reddick was taking part in a John Wick 4 press tour, according to the report, although on Wednesday he posted a video to social media where he was apparently at his home, with his dogs. A cause of death hasn't been announced, but TMZ quoted police sources as saying it appeared to be the result of natural causes.
And the beat goes on… #dogsoftwitter pic.twitter.com/CUL4BTN568March 15, 2023
See more


Source link