This is the storage upgrade you've been waiting for.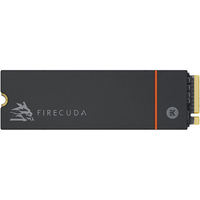 (opens in new tab)
Seagate FireCuda 530 | 2TB | NVMe | 7,300MB/s read | 6,900MB/s write | $459.99 $239.99 at B&H Photo Video (save $220) (opens in new tab)
The 2TB version is the one to go for; it gives you the highest straight performance and astounding endurance. This is the version with the gorgeous EKWB heatsink for just $10 more than the no-heatsink sale price.
View Deal (opens in new tab)
The Seagate FireCuda 530 2 TB is one of the best NVMe SSDs (opens in new tab) you can buy right now, and it's on sale at B&H at an aggressively low price of only $239 (opens in new tab). If you're looking for an upgrade to speed up your game load times, look no further. 
In our review of the FireCuda 530 last year, we said "it combines awesome performance with best-in-class reliability to take the SSD crown," pretty much making it the top choice for premium memory storage. Aside from the lack of AES 256-bit encryption, the only downside was its steep price. The 2TB version of the drive retails from $400-460, so you can score this for almost half-off, which is an absolute steal and a whole easier to recommend. 
It's got a 7,300MB/s read and 6,900MB/s write speed. As for performance, it's at the top of the field and was one of the best NVMe SSDs of last year. It would have most likely ranked higher if it weren't for that wildly high retail price. 
If you can't bear to delete anything ever and have a lot more disposable income, you could go with the 4TB FireCuda 530 (opens in new tab), which is also on sale for $530 (opens in new tab) (nearly half of its usual sticker price as well).
If you're doing the math, though, it's still cheaper to pick up a couple of 2TB 530s instead. Just make sure your motherboard has enough M.2 slots to install an additional SSD. 
If that's too rich for your blood, the 1TB model of the 530 is only $129.99 (opens in new tab). Though at that size, you can find something better for less than $100 almost daily. The 2TB drive is pretty much the sweet spot for PC gaming.
Regardless of size, these all include an integrated heatsink, which should help keep things cool.
If you have an older motherboard, check if it has an M.2 slot for the SSD. If not, it might be time to start thinking about upgrading your gaming PC (opens in new tab).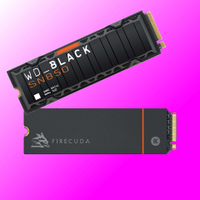 (opens in new tab)
Best SSD for gaming: The best solid state drives around
Best PCIe 4.0 SSD for gaming: Speedy drives
The best NVMe SSD: Slivers of SSD goodness
Best external hard drives: Expand your horizons
Best external SSDs: Fast, solid, and portable