Koduri joined Intel to help the company move into graphics, among other projects, and now he's leaving to create a company working on generative AI for gaming and more.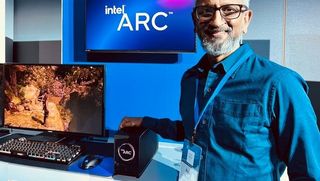 Raja Koduri is one of the big names in PC hardware. It was massive news when he first joined Intel in 2017 (opens in new tab) to help the company's burgeoning graphics division, not the least bit because he had only recently quit being AMD's Radeon Technologies Group boss (opens in new tab). What a steal. But now his time at Intel is coming to a close, as he announces he's parting ways with the company to set up is own AI software start-up.
Koduri (opens in new tab) is leaving his role as executive vice president at Intel, where he was taking care of the company's growing graphics division, and where he also served as a general manager. He was also Intel's chief architect for a time, which just goes to show how much stock Intel put in Koduri's technical know-how.
Intel CEO Pat Gelsinger announced Koduri's departure on Twitter (opens in new tab), and also announcing Koduri's aspirations to create a new software company.
Thank you @RajaXg for your many contributions to Intel tech & architecture-especially w/high-performance graphics that helped bring 3 new product lines to market in '22. Wishing you success as you create a new software co. around generative AI for gaming, media & entertainment.March 21, 2023
See more
That start-up sure sounds like it could be of some interest to us PC gaming lot, with its focus on generative AI for gaming, among other things. Koduri says he'll have more info to share on that in the coming weeks.
On Intel's side of things, I do wonder what sort of impact we'll see from Koduri's departure. It's unlikely we'll see much impact to coming generations of Intel's gaming graphics cards, nor much else in the short-term, as these senior engineering figures tend to be working on projects that are so far out of the public eye it's not easy to know exactly what pies they had their fingers in and when. But this will surely shake-up the structure of the org.
Thank you Pat and @intel for many cherished memories and incredible learning over the past 5 years. Will be embarking on a new chapter in my life, doing a software startup as noted below. Will have more to share in coming weeks. https://t.co/8DcnNdso3rMarch 21, 2023
See more
Koduri's departure also aligns with another major shake-up at Intel. Dr. Randhir Thakur will be leaving the company after previously heading up Intel's manufacturing arm, with Stuart Pann now taking over (opens in new tab) Intel's Foundry Services. Penn will take on the role of making sure Intel's chip making facilities can keep to its aggressive roadmap over the next few years, and oversee the new US and European facility push by the company.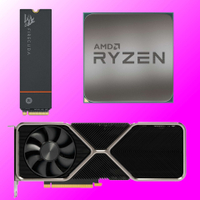 (opens in new tab)
Best CPU for gaming: Top chips from Intel and AMD
Best gaming motherboard: The right boards
Best graphics card: Your perfect pixel-pusher awaits Best SSD for gaming: Get into the game first