There's a whopping 18-inch Razer Blade coming at one end, while the next-gen Blade 16 somehow fits into a teeny tiny chassis.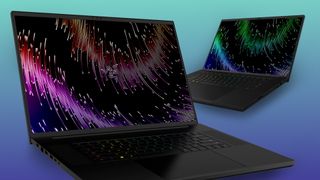 Audio player loading…
This year Razer will be bringing us its first ever 18-inch gaming laptop, or desktop replacement to be more accurate, packing one of Intel's 13th Gen Core i9 HX-series chips, along with Nvidia's RTX 4090 mobile GPU (opens in new tab). Razer has also announced that the new Razer Blade 16 will be packed into a much smaller chassis than anticipated. A little bit of min-maxing going on with these next-gen gaming laptops, then, and from what I've seen it's an impressive feat at both ends of the spectrum.
Razer's first installation to their 2023 gaming laptop lineup comes in the form of the Blade 16. Not only has Razer has managed to jam a 16-inch panel into a chassis that's only a smidge bigger than the current Blade 15—alongside a 13th Gen Intel Core i9 HX-series CPU and Nvidia RTX 40-series mobile GPU—it also announced the Blade 16 will come with the "world's first dual mode Mini LED display."
Neither dual mode nor Mini LED are novel concepts for laptop panels. Combining the two essentially means the Blade 16's 16:10 panel—another in a long line of 16:10 gaming laptops (opens in new tab) for CES 2023—will have the ability to switch from creative mode (120Hz in 2560×1600, or the 4090 model's 3840×2400 resolution), to a dedicated gaming mode. Gaming mode kicks the refresh up to 240Hz, while reducing the resolution in exchange for higher frame rates. The panel will be HDR ready, too, coming in at 1,000 nits peak brightness, and 100% DCI P3. 
Now, we're aware from our previous reviews that Razer laptops tend to come up a little hot in testing. The 12th Gen Core i7/RTX 3080 Ti spec Blade 17 (opens in new tab) averaged out at 100°C CPU temps, in fact. So whether packing even more power into a smaller chassis will result in higher temps, or just more thermal throttling, we'll have to wait to find out.
Image 1 of 2
(Image credit: Razer)
(Image credit: Razer)
The Razer 16 should also come touting a 95 W/hr battery, though, so here's hoping it won't need charging as often. And somehow the new 330W GAN adapter for this machine makes for a much tinier charger than the previous model—60% smaller to be exact—meaning taking your charger around with this tiny machine won't mean adding much more weight to the experience. Always appreciated when portability is a top priority.
A big focus on portability then, and keeping it all looking smart in that gorgeous CNC milled chassis we've come to love. That premium manufacturing and component combos will, of course, come at a premium price. The Blade 16's many configuration options will start at $2,700. There's no indication of the higher-end pricing yet, though we're likely to lean toward the lower spec for this one, if only to avoid any potential throttling issues that might arise from such a small chassis.
Peak Storage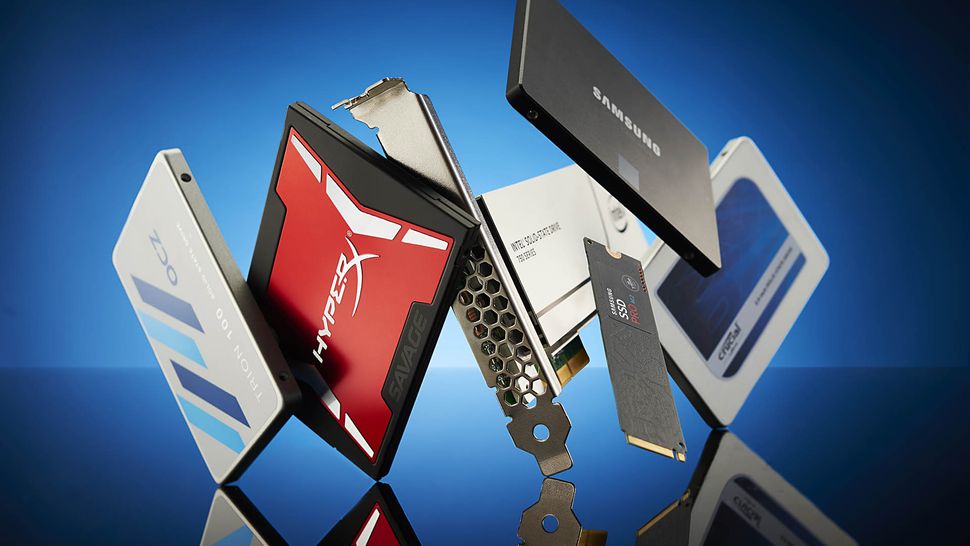 (Image credit: Future)
Best SSD for gaming (opens in new tab): the best solid state drives around
Best PCIe 4.0 SSD for gaming (opens in new tab): the next gen has landed
The best NVMe SSD (opens in new tab): this slivers of SSD goodness
Best external hard drives (opens in new tab): expand your horizons
Best external SSDs (opens in new tab): plug in upgrades for gaming laptops and consoles
Utterly dwarfing the Blade 16, Razer will be bringing us the "most powerful Razer Blade that has ever been made", the Blade 18. Pumped up to the max possible TGP, these beasties are to come with vapour chamber cooling, a five megapixel webcam, and a 240Hz, 2560×1600 panel (again with the 16:10 aspect ratio), regardless of config.
Razer is going for a very desktop-like experience with the Blade 18, and as such it'll come with the potential to upgrade its internal components—whether this will be as great a success as something like the fantastic modular Framework laptops (opens in new tab) is another matter, especially as this is a high-powered gaming laptop. Since prices start at $2,900 for the lowest spec Blade 18, I'd be a bit frightened to void the warranty, wouldn't you?
When it comes to the brand that brought you the 'Cult of Razer' these kind of prices are to be expected. 'People will buy them anyway,' is the mentality. We'll see how that shakes out when you gotta remortgage just to bag yourself a gaming laptop.