The co-op survival game is now available in Early Access and already has over 200,000 concurrent players.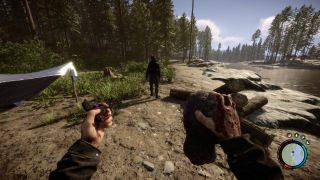 Audio player loading…
Sons of the Forest didn't launch on Steam at 9 am Pacific today when it was supposed to, but about an hour later it became available to purchase so long as you didn't run into error messages. Whatever was clogging up Valve's store seems to have been cleared out now, as the early access survival game has hopped from the top of Steam's most-wishlisted list to the top of its bestsellers list (opens in new tab), knocking Company of Heroes 3 into second place for the week.
At the time of writing, Sons of the Forest has well over 200,000 concurrent players on Steam (opens in new tab), making it the platform's fourth most-played game right now behind CS:GO, Dota 2, and Hogwarts Legacy. It's also currently the most-watched game on Twitch (opens in new tab).
The open world survival game is a follow-up to 2018's The Forest, which stranded players on a cannibal-filled island after a plane crash. Sons of the Forest sends us to another forested island, this time in search of a missing billionaire, and it's just our luck that this island is also full of mutant cannibals.
As is the modern survival game way, chopping down trees is an essential activity in Sons of the Forest, which'll see us build more and more complex weapons and buildings as we progress. However, there's an interesting addition to the survival formula here: NPC companions who can help us out with the less-exciting survival tasks, like, say, chopping down trees.
PC Gamer's Chris Livingston jumped into Sons of the Forest as soon as he had it downloaded, and I'm not sure what he's up to right now, but he was holding his own severed head in the first screenshot he showed us (above), so I assume things are going well and he's getting lots of trees chopped.
Sons of the Forest costs $30 on Steam (opens in new tab), and we'll let you know how we're getting on with it soon. The Steam user reviews are currently "Very Positive," but the game's only been out for a few hours, and it's the kind of thing people will likely want to put tens or hundreds of hours into.
The developer expects Sons of the Forest to hang out in early access for "6-8 months," and says the final version will include bug fixes, improvements to "balance and core gameplay," more stuff to craft, build, and discover, and "additional game mechanics and lore."