It'll still release on February 23rd.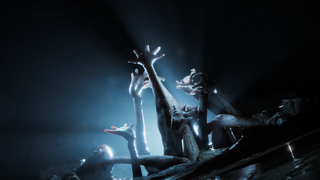 Audio player loading…
The sequel to The Forest (opens in new tab), the game that put the Survival in Survival Horror will still release on February 23rd, 2023, but it won't be the finished game, says developer Endnight Games. Sons of the Forest (opens in new tab) will instead release into Early Access—not because the developers prefer it that way, but to avoid another major release date delay. (opens in new tab)
"It's been a long journey since we first started 'Sons of The Forest' development and it's grown into the biggest most complex game we have ever made," said Endnight Games in a statement (opens in new tab). "There is still so much more we want to add; items, new mechanics, gameplay balance and more. We didn't want to delay again so have instead decided to involve the community in the continued development of this project and keep our February 23rd release date but instead release in Early Access."
After several years marked by major delays in games of all kinds, it's a different tack than most other developers have taken. It won't be Endnight's first go at Early Access, as The Forest was (opens in new tab) one of the first big Early Access successes. 
Sons of the Forest will be what Endnight calls a Survival Horror simulator, a world where you have to survive both hostile terrain and attacks by a society of creepy, cannibal mutants. The character will be stranded on a remote island after going searching for a missing billionaire, so you'll have to craft, harvest, lumber, hunt, and all the other normal Survival game things, but also not get eaten yourself.
The Sons of the Forest community seems to be reacting pretty well, all things considered, with some welcoming the decision and others telling the developers to take time. Still, a sizable minority dislike the choice, now worried that it will both draw out development time before a finished game is released and mean the eventual end product is lower-quality.
Either way, we called Sons of the Forest one of the survival games to look forward to in 2023. (opens in new tab) You can find Sons of the Forest on Steam. (opens in new tab)