Our best setup for the mirror-wielding swordsman.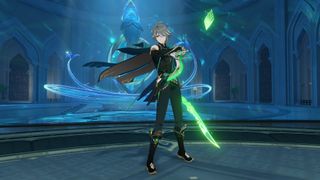 The best Genshin Impact Alhaitham build involves a whole lot of elemental mastery. However complicated Genshin characters appear, miHoYo often makes building them a relatively simple process due to their passives, and the stats that grant them secondary bonuses like damage. In Alhaitham's case, his Mysteries Laid Bare passive provides additional ability damage based on his overall elemental mastery, and that's reflected in his five-star Light of Foliar Incision sword, too.
Alhaitham is all about making mirrors, gaining Dendro infusion for his regular attacks, while also following up with Projection Attacks depending on how many mirrors he has. When he uses his Particular Field: Fetters of Phenomena burst, these mirrors are consumed and converted into additional instances of damage. The number of mirrors consumed then mirrors how many he gets, with 0/1/2/3 consumed providing 3/2/1/0—literally, a mirror ability.
In this Genshin Impact Alhaitham build guide, I'll explain the best setup to make the most of his mirrors, as well as his banner details, and ascension materials. Since Genshin Impact 3.4 (opens in new tab) hasn't launched just yet, this is my best theory-crafted build based on what we know about his character and his abilities (thanks, Honey Hunter (opens in new tab))
The best Genshin Impact Alhaitham build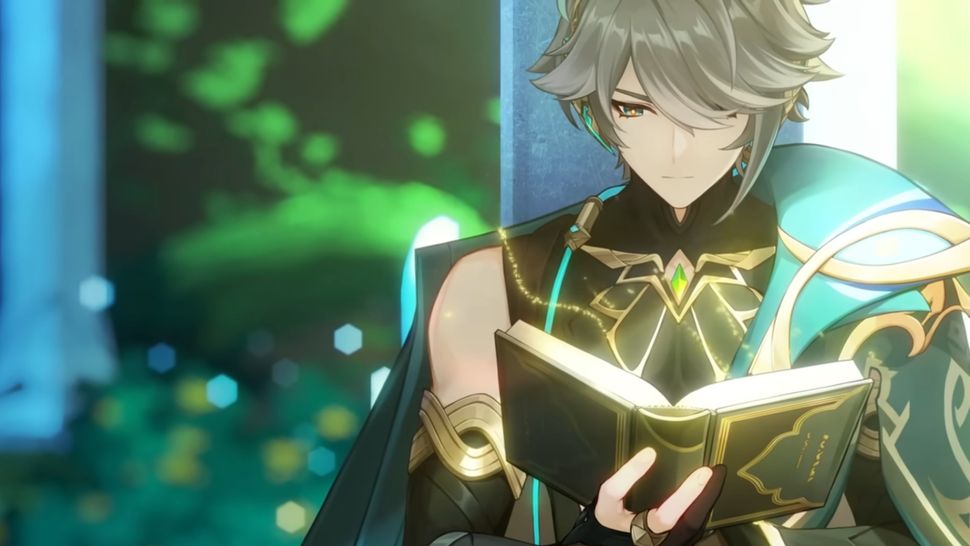 (Image credit: miHoYo)
As mentioned, Alhaitham is a five-star Dendro sword-user who uses his Chisel-Light Mirrors to infuse his attacks with Dendro, while his mirrors follow up with Projection Attacks that cause AoE Dendro damage. When he performs his Particular Field: Fetters of Phenomena burst, these mirrors are consumed and converted into additional damage instances for the ability. 
His Mysteries Laid Bare passive makes him relatively simple to build, since it provides extra damage for his burst and Projection Attacks based on his elemental mastery. If you want to maximise his damage, you'll want to primarily build him towards that.
Weapon: Light of Foliar Incision, Mistsplitter Reforged, or Iron Sting
As always, the featured five-star weapon is the best pick for Alhaitham. Light of Foliar Incision grants a boost to crit damage, crit rate, and increases normal attack and elemental skill damage by 120% of elemental mastery when Alhaitham deals elemental damage with a normal attack. So, this Foliar Incision effect triggers when Alhaitham uses his Dendro-infused attacks, and lasts for 12 seconds or 28 damage instances.
Another decent five-star alternative is Mistsplitter Reforged, which provides a boost to crit damage and a 12% elemental damage bonus. You also gain an incremental buff to elemental damage when you gain a Mistsplitter's Emblem through normal attacks that deal elemental damage, a burst, or if energy is less than 100%. This provides 8% then 16% then 28% when you hit three stacks. Since Mistsplitter's buff activation is identical to Light of Foliar Incision, you can see why this would be a good second choice. 
For no-spend players, there are also a couple of good options. The craftable four-star Iron Sting buffs elemental mastery and increases all damage by 6% for six seconds when you deal elemental damage, stacking up to two times. Xiphos Moonlight is another option, buffing elemental mastery, and providing 0.036% energy recharge for every point of elemental mastery they have, as well as conferring 30% of this buff to the rest of the party. Seeing as you're already building Alhaitham towards elemental mastery, this would be a good way of getting some free energy recharge.
Artifact: (4) Deepwood Memories
The new Dendro artifact set, Deepwood Memories, is a pretty obvious choice for Alhaitham. Two pieces boost Dendro damage by 15%, while four pieces reduce Dendro resistance by 30% for eight seconds when enemies are hit with a burst or a skill. As you'd expect, this is very strong for a character who relies so heavily on Dendro-infused attacks.
For stats, you'll want an artifact with a Dendro damage boost if you can get one, then you'll want to prioritise elemental mastery, crit rate, and crit damage. Depending on your weapon choice, you might also want some extra energy recharge. Elemental mastery is most important since Alhaitham's Mysteries Laid Bare passive boosts his ability damage by 0.1% for every point he has, with a maximum buff of 100%. Since Light of Foliar Incision also grants damage based on elemental mastery, building towards it provides a lot of value.
Genshin Impact Alhaitham banner
The Genshin Impact Alhaitham banner releases on January 18 alongside version 3.4, and will last for around three weeks before the Hu Tao (opens in new tab) and Yelan (opens in new tab) reruns take over. The banner features Xinyan (opens in new tab), Yun Jin (opens in new tab), and the other new character Yaoyao as boosted four-stars. It's worth remembering that you'll also be able to get Yaoyao for free during the Lantern Rite event. 
Genshin Impact Alhaitham ascension materials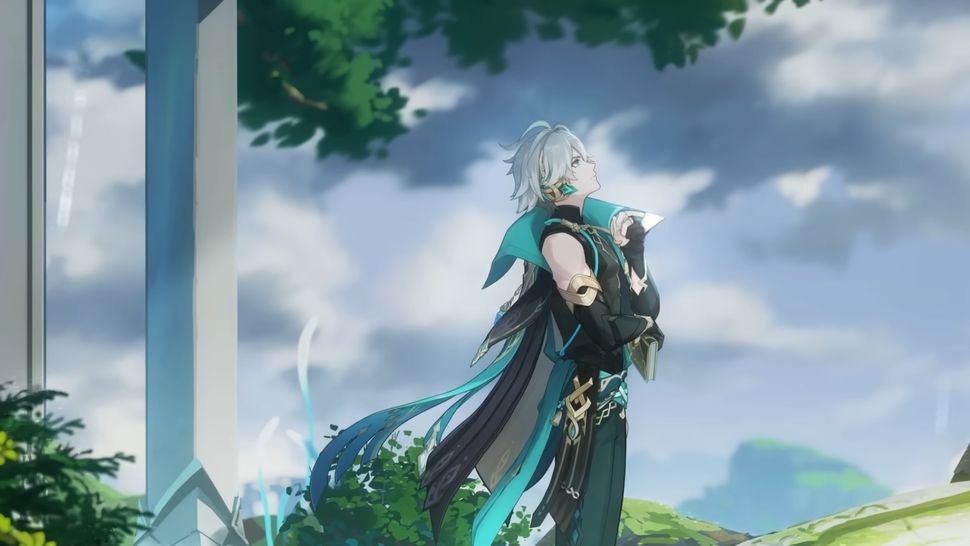 (Image credit: miHoYo)
Character
Here's what you need to gather to ascend Alhaitham to max level:
Nagadus Emerald (one sliver, nine fragments, nine chunks, six gemstones)46 Pseudo-Stamens168 Sand Grease PupaRed bandanas (18 Faded Red Satin, 30 Trimmed Red Silk, 36 Rich Red Brocade)420,000 Mora
You can get Nagadus Emerald from Dendro bosses like the Jadeplume Terrorshroom and Dendro Hypostases, but you'll presumably also be able to get it from the new Setekh Wenut boss, which also provides the Pseudo-Stamens that Alhaitham needs. Sand Grease Pupa is a new material being added in the Desert of Hadramaveth, and it sounds like they'll be found in underground caves. Red bandanas come from defeating Eremite enemies, while the best way to get Mora is by completing Blossoms of Wealth and using Condensed Resin to claim the rewards.
Talent
To ascend one of Alhaitham's talents you'll need: 
Ingenuity scrolls (three teachings, 21 guides, 38 philosophies)Red Bandanas (six Faded Red Satin, 22 Trimmed Red Silk, 31 Rich Red Brocade)Six Mirror of MushinOne Crown of Insight1,653,000 mora
Ingenuity Scrolls come from the Steeple of Ignorance Domain on Tuesdays, Fridays and Sundays. Red Bandanas are from defeating Eremite enemies in Sumeru. The Mirror of Mushin is a boss material from the Shouki No Kami weekly boss, but you can craft this with any of its other materials and Dream Solvent, which you also get from Trounce Domain bosses.
Lastly, the Crown of Insight comes from certain seasonal events, such as the upcoming Lantern Rite, but you can also get a limited number by levelling the Frostbearing Tree in Dragonspine, the Sacred Sakura in Inazuma, the Lumenstone Adjuvant gadget in the Chasm, or the Tree of Dreams in Sumeru.