The union representing studio workers says Yves Guillemot is trying to blame employees for his own failures.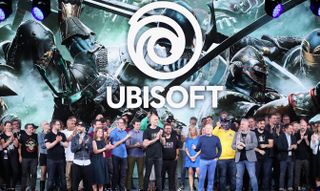 Audio player loading…
Ubisoft announced last week that it is not having a good 2023 (opens in new tab) so far. Skull and Bones was delayed again, but more seriously, the company's inability to release games that anyone cares about has caused serious financial bleeding. Now Ubisoft is facing even more headaches, as the Solidaires Informatique union has called for a strike (opens in new tab) at Ubisoft Paris on January 27.
A strike might seem like an odd response to being told the company is in trouble—outside of France, at least. It arises from statements made by Ubisoft CEO Yves Guillemot, who said in last week's update that the company is looking to cut €200 million ($215 million) in expenses over the next two years through "targeted restructuring, divesting some non-core assets, and usual natural attrition."
In a follow-up email to Ubisoft employees reported by Kotaku (opens in new tab), Guillemot told workers that he needs their "full energy and commitment to ensure we get back on the path to success," adding, "I am also asking that each of you be especially careful and strategic with your spending and initiatives, to ensure we're being as efficient and lean as possible."
Those words attracted the ire of Solidaires Informatique, which called Guillemot's comments "catastrophic" and accused the CEO of planning "staff reductions, discreet studio closures, salary cuts, [and] disguised layoffs."
"On several occasions, Mr. Guillemot is trying to shift the blame (once again) onto the employees; he expects us to be mobilized, to 'give it our all,' to be 'as efficient and lean
as possible'," the union wrote in its strike call. "These words mean something: overtime, managerial pressure, burnout, etc. Mr Guillemot asks a lot from his employees, but without any compensation."
The studio said salaries at Ubisoft have failed to keep up with inflation, that the company has not implemented a four-day work week (Ubisoft reportedly experimented (opens in new tab) with a 36-hour work week in 2021 but declined to carry on with it), and that there are no protections in place for "exhausted" dev teams after their projects are completed.
The union is thus making four demands:
An immediate 10% increase for all salaries, regardless of annual increases, to compensate for inflation. With the hundreds of millions of euros obtained from Tencent (opens in new tab), there is money in the coffers of the employers.The improvement of working conditions, in particular, the implementation of the four-day week.Transparency on the evolution of the workforce, both locally and globally.A strong commitment against disguised dismissals and condemnation of abusive managerial policies that push employees to resign.
"And because Mr. Guillemot and his clique only understand the relationship of power, Solidaires Informatique is calling on the employees of Ubisoft Paris to go on strike on Friday 27 January in the afternoon, from 2 to 6 pm," the union wrote.
📢Ubisoft Paris – Appel à la grèveVendredi 27 – après-midiM. Guillemot veut mettre la pression à ses employés. Répondons lui par la grève. ✊📢CALL TO STRIKE – FRIDAY 27th – AfternoonM. Guillemot want to put pressure on the salaries. Let's strike. ✊ pic.twitter.com/1SaS5SdwFMJanuary 17, 2023
See more
The call for a strike is limited to Ubisoft Paris, rather than the company as a whole, because Solidaires Informatique (opens in new tab) is a French trade union with a chapter at the Paris studio (and numerous other tech companies in France) but not others. This isn't the first time it's taken action against Ubisoft: In 2021, the union filed legal action against Ubisoft over allegations of "institutional sexual harassment (opens in new tab)," and later that year it criticized Ubisoft's plans to move into NFTs (opens in new tab) as "useless, costly, [and] ecologically mortifying."
I've reached out to Ubisoft for comment on the strike call and will update if I receive a reply.