And features a truly horrific creature called a Morgen.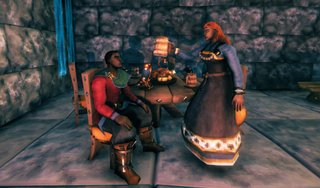 Audio player loading…
Iron Gate Studios has brought in the new year by outlining its plans for Valheim in 2023 (opens in new tab). The Viking survival sim launched in early access in February 2021 and, despite its high level of polish and hugely positive reception, remains in that state. The studio reckons the game will be finished once three biomes are included. The first is the Mistlands, the subject of last year's major update, and this year is going to be all about the Ashlands.
The Ashlands will apparently be "quite different from what we're all used to", being "a large chunk of land at the far south of the map, rather than small islands spread out over the world". And unlike Mistlands, the development of which was kept under wraps until close to release, the studio says it wants to be transparent and "show you a lot more of the process".
Given that Mistlands only came out last month, development on Ashlands is in the very early stages, so we get some enemy concept art of some nasty skeletons called the Charred and a frankly horrific looking thing called Morgen that's basically a fleshy mouth on legs. The Ashlands is supposed to be the land of the dead, as well as volcanic region, so there's lot of glowy internals and skulls sticking out everywhere
Then we take a hard right into more cheery territory. The Ashlands doesn't have an ETA but it's certainly not imminent, so Iron Gate details some of the smaller updates that'll be coming in the meantime. The game's Xbox release in March will come with crossplay, the devs are looking into adding some new difficulty settings, and the next addition will be called Hildir's quest. This features some natty outfits you can see in the header image, adds the eponymous Hildir, and most importantly will allow you to re-style your character's hair. 
Iron Gate says alongside content updates, it's also working on ways to improve the accessibility of the game (which it says is "long overdue"). As part of this it especially wants to hear from people who have disabilities or any other factor that affects the gaming experience and provides this contact email (opens in new tab).
The Ashlands expansion is still in pre-production, so don't expect it anytime soon (though technically it's already one of the game's 'secret' biomes as explained here (opens in new tab))  I also wouldn't imagine this will take the 20 months or so that Mistlands did. Valheim was a massive success at launch and was mostly developed by three people, so as Iron Gate itself has said in the past it had to spend considerable resources and time on scaling itself well to deal with it. It's a good problem to have, sure, but almost two years on from the early access launch Iron Gate is a much larger operation and, one would expect, will knock this biome out a little quicker.